Tennis season in full swing
DeSoto, Mill Valley to compete as unified team
If you were going to design a mascot for the DeSoto 2001 boys' tennis team, it would have to be a hybrid of a Wildcat and a Jaguar.
While most other sports have been affected by the district's split, the schools will combine their tennis teams. The unified team will compete in the Kaw Valley League, along with Immaculata and Lansing.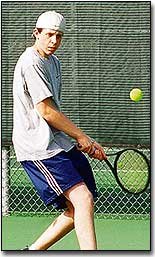 The Desoto-Mill Valley team has four seniors on the roster; Tyler Beaver and Patrick Lattin of DeSoto and Lourenco Biniz and Marcus Cockroft of Mill Valley.
Mill Valley may benefit the most from the consolidation, given that Biniz and Cockroft are the only Jaguars on the 10-player roster.
Coach Doug Updike made his debut as head coach last season for DeSoto, after eight years as an assistant coach.
Updike teaches at Lexington Trails Middle School.
Updike said the strong DeSoto sophomore class of Drew Guntert, John Hall and Tyler Johnson should help Lattin and Biniz improve upon their 1-5 record last season.
"One of our goals is to get one or more people to the state tournament this season," Updike said.
The team will play league rivals Immaculata and Lansing, as well as area teams such as Baldwin, Bonner Springs, Gardner-Edgerton Osawatomie, Ottawa and Paola in tournament play.
Unlike the Mill Valley and DeSoto wrestling teams that were allowed to compete as one for only for the 2000-2001 season, Updike said the two schools could continue to share a tennis team in the future.
The teams will not be split until the number of competitors increases, he said.
"It all depends on the number of players we have going out for the team," he said.
More like this story