Plummer earns third term on school board
In the only re-election contest for the DeSoto school board, Jim Plummer easily won re-election to his third term to the position six seat.
Sandy Thierer and Jim Thomas were unopposed in their bids to retain positions four and five respectively.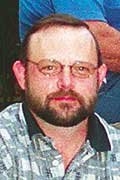 Unofficial totals indicated Plummer bested Richard Brazukas with 64.5 percent of the vote in the district-wide race. According to the Johnson County Election Office, Plummer beat Brazukas by a count of 942 to 519.
Tuesday night, Plummer said his victory, coupled with the lack of opposition for the other two incumbents, indicated district voters were satisfied with the direction the school board was taking the district.
"I knew if those who voted were involved in the district, I would do well," he said.
Tuesday's results were much different than the first time Brazukas and Plummer vied for the position six seat. Eight years ago, the two men tied during the primary, and Plummer moved on after winning a coin flip.
County voters also returned all three incumbents to another four-year term on the Johnson County Board of Trustees. Virginia Krebs, Merriam, finished with 22,746 votes; Thomas Mann, Leawood,19,087; Shirley Brown-VanArsdale, Gardner, 16,899; and Colin Hickey, Olathe, finished out of the running with 13,547.