LTMS

hosts the Ikidarod
LTMS

students hold their own version of the famous dog race
James Buren didn't hear any words of complaint when he served a group of fellow Lexington Trails seventh-graders dog biscuits last Friday.
The students were competing in the Ikidarod, the middle school's annual take on the Alaksan cross-country, dog-sled race, Iditarod.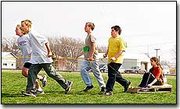 As a helper assigned to McAfee's Station, the third of four checkpoints on the course, it was Buren's job to feed biscuits to the students tethered to his team's sled.
Lexington Trails resource teacher Candance Boehm said the students' silence didn't necessarily mean they were fond of the peanut-butter dog biscuits prepared by Lexington science teacher Janet Odgers. The "dogs" knew any words they spoke other than "bark," "aarf," or other canine vocalization would cost their team penalty seconds.
Amy Cuba, a helper assigned to the checkpoint for another team, tried to engage the dogs in conversation as they took their required three-minute rest.
Her attempts were ignored, but Cuba said she wasn't giving up.
"If they do talk, I'll be sure to hear," she said.
The team knew it was in position to win if it didn't earn any penalty seconds. Its time at McAfee's Station was much better than the two preceding teams.
"Good dogs," said musher Carrie Wilbert to her silent team members.
Boehm explained the Ikidarod wrapped up a seventh-grade study section on Alaska. They read a novel on Alaska, studied the state's wildlife and followed the actual Iditarod on a map as the racers made their way across the Alaskan wilderness.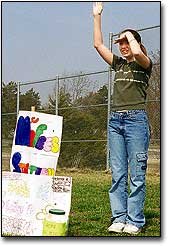 The class was divided into four teams. The teams then decided who would serve as dogs, helpers and mushers.
Each team built its own sled, which was then decorated with bits of wisdom like, "The view never changes unless you're the lead dog."
The first team on the course was mushed by Jessica Blankenship.
"We did pretty good; we didn't have any penalties," she said soon after the team crossed the finish line.
Pretty good wasn't good enough. The team mushed by Wilbert won the race.
Greg Moore, who pulled Blankenship's sled as "Astro," said the teams didn't know what they would earn for winning.
"They just said it would be worth our while," he said.