City move brings new life to old building
Rose McAninch was pleased Tuesday when she visited what is now officially DeSoto City Hall to pay her water bill.
"This is the first time I've been here since I graduated," she said. "It looks nice.
"I'm very pleased the building is still serving the community."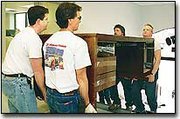 DeSoto City Hall has moved to the building at 32905 W. 84th Street that has served the community first as a high school and then a middle school. City offices were closed last Friday as the staff moved furniture, files and computers to the renovated building.
"It was a tough job, but everybody pitched in," said City Administrator Gerald Cooper. "We're getting settled in. The computer system isn't completely up yet. The billing system is operating."
Mayor Steve Prudden said the move would afford him a new experience in his last weeks in office.
"I'm getting an office for the first time in four years," he said. "I'm so used to having a mobile office, I don't think I'll get used to it in one month.
"We've been up against it for space. It is something that is long overdue. "
Billing clerk Bonnie Bennett said she and her office mates appreciated the fact they were no longer forced to work in cramped quarters.
"We enjoy that," she said. "It's noticeably different."
Even after the move, two offices near the city administrator's office remained empty. They offer space as the city grows.
"We have room for five or six more people," Cooper said. "It will be quite awhile before we have to look at something more."
The city council has yet to decide the future of the old city offices. Cooper said the DeSoto Chamber of Commerce and the DeSoto Fire Department are interested in the ground-floor offices.