Anderson wins mayoral race
DeSoto voters put a new face on city government Tuesday with the election of Dave Anderson as mayor and political newcomer Emil Urbanek to city council.
Voters didn't turn their backs on all familiar faces, however. Incumbent Tim Maniez earned his fourth term on the city council.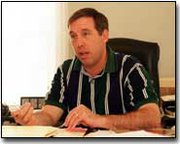 Anderson, who has served as chairman of the DeSoto Planning Commission the past two years, won the city with 62 percent of the vote. Unofficially, Anderson received 542 votes to Councilman Duke Neeland's 325. There were three write-in votes.
In the four-way race for the two city council seats, Maniez finished with 411 votes, Urbanek 395, Max Atwell 350 and Jim Cannon 339.
Assuming all voters marked a ballot in the mayoral race, 29.5 percent of the city's 2,958 registered voters turned out for the election.
Anderson said his election indicated DeSoto citizens want movement on development of an infrastructure plan and improved relations with surrounding governmental entities.
"I better get started talking to the people I said I would," Anderson said.
The winning candidate said his opponent ran an energetic, issues-oriented campaign.
"I appreciate the campaign Duke ran," he said. "His campaign was straight to the issues.
"I think Duke was talking about some of the same issues I was. I think he is an asset to the city. I intend to seek his comments."
A disappointed Neeland was philosophical in defeat.
"It wasn't my time," he said.
Neeland did express disappointment over a late mailing from DeSoto resident Darrel Zimmerman and other Anderson supporters that harshly criticized the city council's decision to annex the Hunt Midwest Mining Inc. quarry and other matters.
"It put out a lot of smoke I didn't have time to react to," Neeland said, while adding he didn't believe Anderson was responsible for the mailing.
Neeland indicated he would continue some volunteer work and would like to work on emergency preparedness and issues he identified in his campaign.
Perhaps the biggest surprise of the night was Urbanek's success. The retired IBM computer repairman had no previous political experience and is a relative newcomer to DeSoto.
"I didn't know very many people when I started," the newly-elected councilman said Tuesday. "I walked the city twice and talked to people. I sent fliers to all those I didn't get to talk to.
Urbanek said his message stressed the need to improve the city's water and sewer utilities and streets.
"I guess the people liked what I had to say," he said. "I'm anxious to work with the new mayor and the council."
Maniez said he was gratified to win re-election on a night voters seemed to express a desire for new faces.
"I guess people voted for change, except for me," he said. "We have a lot of issues and problems. I'm ready to step up."
The winning candidates will be sworn in at the first city council meeting in May.