Mill Valley hitting its peak
Jaguars win second straight; Face stiff test in Piper Friday
The Mill Valley football team showed a little of everything in its 13-10 victory over Lansing last Friday.
A potent ground game.
Stout defense.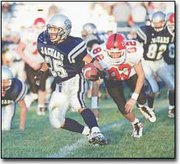 Solid special teams play.
And, yes, a penchant for sudden carelessness a teeth-gnashing staple of any young football team.
The Jaguars also showed the ability to win a close game. As a result, they are 2-1 heading into Friday night's game at Kansas City-Piper.
"It was a good win and 2-1 sounds a lot better than 1-2," said junior defensive tackle Brandon Stinnett. "Both our offensive and defensive lines dominated and our running backs ran hard."
Tailback Justin Cobb was the leading ground gainer. He followed John Goodin's 172-yard effort from the previous week to surpass the 100-yard mark and score on a 26-yard touchdown run early in the second half to give Mill Valley the lead for good, 7-3.
Cobb's touchdown was set up by Goodin, who took the opening kickoff of the second half 59 yards to give Mill Valley excellent field position.
"That's two weeks in a row that Cobb has run for a touchdown on the first play from scrimmage," said Mill Valley coach George Radell. "It gives a big momentum shift and gets us back on track."
Goodin added an 11-yard touchdown run in the fourth quarter that put the Jaguars ahead 13-3, but had a failed kick.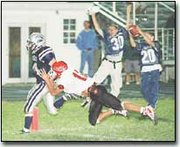 Lansing quarterback Danny Cunningham got the Lions within three points by throwing a touchdown pass in the closing minutes of the contest. However, the Jaguars recovered the ensuing onside kick and ran down the clock to get their second win.
Piper is reeling after a 42-16 loss to Clay Center last week, but Radell is warning his team not to put too much stock in the score of that game.
"Piper is a good opponent who has beat Santa Fe Trail and Abilene, but ran into a really good Clay Center team that's picked to win conference," Radell said.
The Jaguars have been impressive since their opening game loss to Immaculata. Their running game and defense have been a strength. They shouldn't stray too far from that game plan against Piper, which gave up six rushing touchdowns a week ago.
"We always try to establish the run, and if we can't do that, we try something else," Radell said. Clay Center had some rushing yards against them and they have some really fast running backs, so we'll keep trying to run the ball."