Learning in a business environment
DeSoto High's technology lab offers real-world challenges to prepare students
As he watched DeSoto High students Amanda Peck and Ryan Frame layout a brochure on the computer last Friday, teacher Jason Smith suggested they could place more copy on the page if they reduced its margins.
"You're supposed to have at least 50 percent white space or it gets hard to read," Peck told her teacher.
The design concept was new to Smith. The two girls learned it from reading the manual for the desktop-publishing software program they were using to layout the brochure.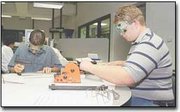 The girls' initiative pleased Smith.
"Notice I'm not instructing here," he said. "When you get into the real world, nobody is going to hold your hand."
If students have questions, they should refer to computer manuals or call 800 numbers for tech support, Smith said. By doing so, they often learn things their teacher doesn't know, Smith said.
By design, instruction and learning in the technology lab is supposed to be different, Smith said. The district spent $196,000 to purchase Pathways technology labs from Pitsco Inc. of Pittsburg, Kan., for both its high schools.
The Pathways system is designed to give students an introduction into corporate culture, Smith said.
"This is a business environment," Smith said. "On the first day of class, I told the students this is a corporation and I'm the CEO. Don't ask me to do your job. I'm not here to do your job; I'm here to see that your job gets done."
The lab's physical environment is composed of four "suites." Each suite specializes in one of four topics. At DeSoto High the suite subjects are communications, digital manufacturing, entrepreneurship and science which equate to the marketing, manufacturing, financial and research and development divisions within a corporation.
The four suites at Mill Valley cover different subjects than those in the DeSoto High Pathways lab. Smith said next year, the schools will trade suites and underclassmen enrolled this year have the opportunity to learn four new subjects.
Each triangular suite has three computer work stations called harbors. As important as the computers are to the class, it is the round table in the middle of each suite that makes the class unique, Smith said.
At the tables, students meet to discuss and plan team projects. Although the lab's software programs meet industry standards now, they will be updated and replaced, Smith said. Of more enduring importance is the experience in team problem solving the students will gain through the class.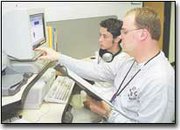 "The emphasis of this class is not so much technology and how to use it," Smith said, "but on how to translate that into a technology team concept and to work together."
While Peck and Frame were laying out the brochure on one computer, senior Noe Marquez was developing a Web page at one of the suite's other harbors. Nearby, Jake Hodge prepared a multimedia presentation that will be given with the aid of a computer. All are working on a marketing plan for a mythical sports apparel and equipment manufacturer.
And, as in the real world, they are working under a deadline. The students are to have their marketing campaign ready to present late this week.
A computer randomly selects the students' assignments, Smith explained. After the teams complete their current projects, the computer will give each student a new assignment. Marquez's next assignment might be to serve as production manager in the manufacturing suite, a task that currently occupies freshman Nicole Husted.
The students in her suite are manufacturing wire earphone hangers designed to hang from the tops of office partitions. As part of that process, Husted has used software programs to stress test different metals and track inventory.
"It's more of a teamwork thing," she said of the class. "Other classes are more individual."
That can be a bit unnerving for good students used to earning their own grades, Smith said. However, he said the students are adapting.
"There is a lot of what I like to call positive peer pressure for the students to work hard," he said.
More like this story