Jaguars get first win
New attitude, a key to 35-14 victory over Perry-Lecompton
Something changed in the week prior to Mill Valley High's contest with Perry-Lecompton.
Maybe it was a newfound intensity, or maybe the Jaguars were trying to prove something. Whatever it was, this change manifested itself in the Jaguars' 35-14 win at Perry last Friday.
"Our attitude really changed from week one to week two," said senior running back Justin Cobb. "Small mistakes killed us our first game and we eliminated most of those against Perry."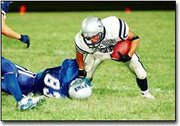 The Jaguars jumped to a 20-0 early lead and were up 28-8 at halftime. Two touchdowns by Cobb and one by sophomore running back John Goodin were enough to put Perry away early.
"I thought I played pretty well. I think I can play better. I was pretty pleased and I think I helped the team," said Goodin, who had a game-high 172 yards on 12 carries.
In the second quarter, the Jaguars put some more points on the board when junior quarterback Donny Slavinski hit senior wide receiver Cody Plummer for a 13-yard touchdown.
"I think I played an above average game. I didn't have an all-star game, but I didn't mess up too bad. I guess I could have the best game ever and lose, and it wouldn't be as rewarding," Plummer said.
In the second half, Cobb added a 30-yard touchdown run his third score of the game.
"I can only do as much as the rest of the team," he said. "I couldn't have done any of what I did by myself. Our line really dominated and made the game for us. I'm happy with my performance, but it wouldn't have mattered if we hadn't won."
Lansing comes to town Friday. The Lions are 1-1 coming off a 37-20 loss to Kansas City-Turner. They won their opener in a 64-8 blowout of DeSoto.
"They shouldn't fool us, because they play a lot like us and Immaculata. They lost to a really good team last week, but if we prepare like we did last week, we should be okay," Plummer said.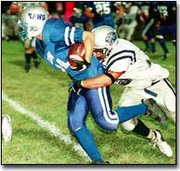 With a win under their collective belt, building some momentum is the goal for this week, Cobb said.
"I think we're rolling after our first win. If we keep playing like we did, there's no team who can play with us," Cobb said.
More like this story