Technology links high schools
Five DeSoto High students spend nearly two hours Friday morning intently watching television.
The students are not slackers skipping school to watch their favorite soap operas, but five of the best and most motivated students in the high school, said Principal Debbie Lynn.
The five students are taking advantage of the district's new long-distance learning program to take a calculus course that would otherwise be unavailable to them. Class sessions are simulcast from Mill Valley where instructor Pat Sullivan teaches the class to 17 students.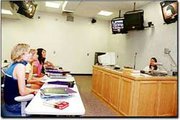 While another calculus class is offered at DeSoto High, the five students in Sullivan's class were unable to enroll in it because of scheduling conflicts.
Realizing the long-distance program would expand the courses available to its high school students, the district invested in the technology that made it possible with the opening of Mill Valley.
This year, courses offered via the long-distance program are calculus, statistics, anatomy and French 3 and 4. They are all upper-level, college-preparation classes that appeal to a limited number of students, Lynn said.
"The true goal of the program is to provide students with classes they couldn't regularly get at a high school this size," she said.
Just three weeks into its inaugural year, the long-distance program is in its infancy, Lynn said. It has experienced technical glitches and both students and teachers are adapting to the process, she said.
Some of the students on the DeSoto side of the calculus class find the program awkward. Senior Jamie Budreau complained that her "silly questions" must now be shared with the entire class.
"We can't really ask the teacher questions privately," she said. "The whole class gets to hear it."
The physical distance between him and his students does present a problem in building relationships, Sullivan said. It is less for him though because he taught at DeSoto High last year and knows all his students.
Sullivan said he has had to change his methods to teach the long-distance course.
"It's made me become a lot more prepared," he said. "I can't just walk in and wing it. I've become very prepared and very disciplined."
DeSoto senior Amber O'Connor said she finds the televised class "confusing." Math is a visual discipline that relies on graphs and figures that are hard to present over the screen, she said.
The students' comments will be used to improve the program, Sullivan said. Meanwhile, Sullivan said he still lives in DeSoto and encouraged students in the class to visit him after school for help.
It is much too early to make any judgments on the long-distance learning program, Lynn said. It will improve week by week, she said.
"Students' perceptions in November will not be the perceptions they have today," the principal vowed.
District representative recently met with Southeast Kansas Educational Cooperative Greenbush concerning the long-distance learning opportunities it offers. In the coming years, the district could greatly expand the courses it offers students through long-distance learning, she said.
"This year is just to get the system up and going," she said. "There are all kinds of classes available through Greenbush."
Meanwhile, DeSoto senior Rebecca Coffindaffer is thankful the program is allowing her to take calculus.
"I really think the technology is remarkable," she said. "It took me a couple of days to get used to it. It's still different, but it's better than not having the class at all."