Lions tame DeSoto in opener, 64-8
Lansing- A new era of DeSoto football got off to a rocky start last Thursday as Lansing handed first-year Wildcat coach Brad Scott a 64-8 season-opening loss at Lansing.
The Lions and Wildcats traded fumbles in the first quarter before Lansing running back Mark Bristow broke free for a 77-yard touchdown run on third down-and-seven with 7:52 left in the first quarter.
DeSoto also ran into trouble in the third series when Rick Miller left the game with a broken hand. Miller, who will play Friday against Santa Fe Trail, was sorely missed, as he was the team's long snapper, an inside receiver and a linebacker.
The Wildcats, down 20-0, had a touchdown late in the second quarter, but it was called back because of an illegal man downfield. The Lions then scored a touchdown with 1:28 left to lead 26-0 and deflate any DeSoto comeback.
A 32-point third quarter didn't help matters either, but DeSoto scored in the fourth quarter with a 29-yard touchdown pass from sophomore quarterback Greg Francis to junior receiver Justin Haub with 10:59 left in the game. The Wildcats went for the two-point conversion, and Francis ran the ball in to make the score 58-8.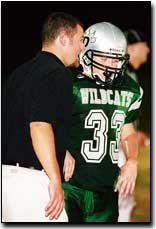 Coach Brad Scott took the blame for the loss, but said that after looking at the film, the Wildcats could fix many problems they endured in the Lansing game.
"We'll play a better game," Scott said about the Wildcats first home game against Santa Fe Trail.
More like this story