This one's personal
First Mill Valley-DeSoto matchup promises to be a battle
In a year when moral victories have been the norm for a young DeSoto team, the Wildcats found two more.
Bishop Ward had a 36-0 lead at halftime, which included two touchdown runs by sophomore running back Jarrett Byers in the second quarter. But the Wildcats held the Cyclones scoreless in the second half, the first time this season coach Brad Scott's troops have managed that feat.
The Wildcat offense also went turnover-free, another first for DeSoto.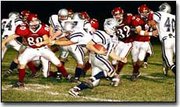 The offense was spotless in that category with an unstable backfield. Michael Allen continued to struggle with a knee injury he sustained against Eudora.
The sophomore running back had a quiet rushing game, accumulating just more than 50 yards.
But despite Allen's injury, Scott saw improvements in his offense, specifically sophomore signal-caller Greg Francis.
"He's setting in the pocket more," Scott said of Francis. "He's had happy feet as a young quarterback, but is getting more patient."
Scott also said the Wildcat defense had its best game of the season.
At 0-8, DeSoto won't need any motivation to change moral victories into its first notch in the win column. Tonight's season finale will be against its newest rival, Mill Valley. Most of the Jaguars were teammates last year, wearing many of the uniforms the Wildcats now don.
Scott will look for emotions to run high tonight.
"It will be the most intense game we play in so far," Scott said, "because of the natural rivalry.
DeSoto will be on the road at, um, DeSoto for the 7 p.m. game. The Wildcats will be the road team, wearing their white road uniforms, while the Jaguars will wear their home dark jerseys.