Mill Valley girls finish second
State-bound.
That's the phrase being tossed around by the Mill Valley High girls cross country team, which qualified for Saturday's Kansas Class 4A meet in Wamego last weekend by finishing second at the regional meet in Ottawa.
Meanwhile, the boys team, despite the second-place showing of junior Griffin Lee, finished fourth one spot out of contention and will not compete as a team Saturday.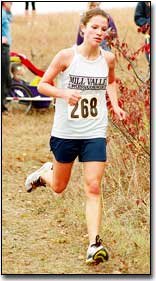 "With hard work and resolve, this group can set their sights on making up that one place next year," said Jaguars coach Mark Chipman.
Lee qualified for state by finishing second to Baldwin's Matt Noonan, the favorite to take home a state championship Saturday in Wamego. Lee finished with a time of 17:14 and could be in contention for a medal at the state meet.
Running in Ottawa, the Jags encountered one of the toughest courses in Kansas. The hills were steep and came at parts in the race that required runners to use a great deal of strategy. That combined with the competitive field made Lee's second-place finish more noteworthy.
Angie Matlack, who, like Lee, won a Kaw Valley League title the week before, finished fourth in the girls regional to pace the Jaguars. Meanwhile, freshman Hillary Johnson finished sixth.
"I think we've worked our whole season to get to state and we made it," Johnson said. "I was glad that I got sixth, but I think I could've done a little better," Johnson said.
More like this story