Pointless endeavors
DeSoto, Mill Valley shut out in district sub-state openers
Friday the 13th's game between winless DeSoto and once-beaten Eudora appeared to be a winnable game on paper for the Cardinals.
On the field, it was even worse.
Little did anyone suspect it could be so lopsided.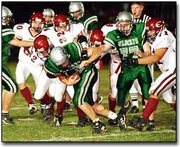 Everything that could go wrong did for the Wildcats in a 74-0 district-opening loss to the Cardinals.
While Eudora standout Brian Harris reached the 1,000-yard plateau for the season in the first quarter, DeSoto's Michael Allen left the game with a knee injury. Allen, the pulse of the Wildcat offense, would not return, and the young Wildcats were flatline for most of the game.
The Wildcats had four fumbles and one interception in the first half and added two interceptions in the second half. Eudora, meanwhile, built a 27-0 lead in the first quarter, including two touchdowns 14 seconds apart.
Harris scored the first of his two touchdowns against DeSoto on a 47-yard run at the 9:21 mark in the first quarter. Zac Tyler scored on a 14-yard run at the 9:07 mark after a Wildcat fumble, putting Eudora up 13-0.
Harris finished the game with a nine-yard run in the first quarter, adding to his milestone. Eudora's other backs shared time for the rest of the game.
For DeSoto, the ball never bounced its way. In the second quarter, Eudora had a first down, but fumbled. DeSoto couldn't get the recovery, and Eudora's Steven Krutz turned a fumble recovery into a 64-yard touchdown run.
The strange play was just another rough sport in DeSoto's homecoming game. Wildcat coach Brad Scott took full blame for his team's performance.
"I want to apologize to anyone who came to this game," Scott said. "Everything we tried to do went wrong. It's all my fault.
While Eudora coach Aaron Barnett hasn't had losing seasons with the Cardinals, he knows Eudora has been in DeSoto's position before. Barnett said Scott will see better days.
"Brad's got to keep his head up," Barnett said. "He's doing a good job. He'll be fine."
Eudora, however, improved to 6-1 and 1-0 in district play. Barnett was concerned with a sluggish week of practice, but he thought his team responded well.
"They have to earn every second of playing time," Barnett said. "Their intensity was up."
Barnett and his troops will take on the other half of DeSoto Mill Valley Friday.
DeSoto, 0-7, will take on Bishop-Ward at DeSoto.
More like this story