Sitting on his unperturbable horse Blaze, Richard Gratny slowly lowered the huge lasso he was twirling from over his head to the ground.
The trick is known as the cowboy's wedding ring, and Gratny said that the secret behind it was having a strong arm. While that is certainly true, his wife, Annette, said Gratny brings more than a strong arm to his repertoire of professional rope tricks
"He has a talent for it, too," she said. "I would call it a Western art form, and he does amazing things with a rope."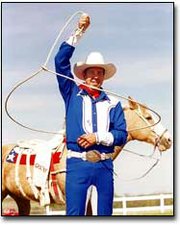 The Gratnys and their three children Dusty, Cody and Trisha have made a second career out of trick riding at rodeos and special events around the country. Besides feats of daring off galloping horses, the act includes Gratny's rope tricks.
At one event some years back, Gratny set a world record when he spun a lasso more than 78 feet in circumference.
"I guess I still hold it. I don't know," Gratny said of the record.
That's pretty impressive for someone who grew up in the confines of metropolitan Kansas City. But Gratny explained his family always had an interest in horses and rodeo. Family members, including his uncle Dean Wall who now lives near Gratny were also into trick roping.
"We played with it around the house," he said. "Somebody would have a rope and would say 'hey, try this.'
"I look on it as like somebody playing an instrument a piano player or something like that. You have to just practice."
The young Gratny and his family weren't much different than the cowboys who invented trick roping.
"They say it started during the cattle drives," Gratny said. "Cowboys started showing off around the campfire at night. Just like anything else, some of them got better at it than others, and started putting on shows."
In a way, Gratny used his trick rope to lasso Annette.
"I saw him roping down in the courtyard of apartment complex while we were going to K-State," she said. "Life has a way of dealing out some interesting sidelines."
The couple moved to their farm south of DeSoto after graduating in 1974. Things got really interesting for the family when Gratny was injured in a construction accident at the age of 35.
"I told Annette I always wanted to trick ride," he said. "She told me if I was going to do it, she'd do it with me."
"After he had the accident, I would have done anything," Annette said. "I was raised a town kid. I always had a love of horses and wanted to ride. I didn't think I'd be hanging upside down on one."
The Gratnys have performed at as many as 30 shows a year. But have cut down the schedule in recent years.
"As the kids get older, it is hard to make those commitments," Annette said.
A bum shoulder now prevents Gratny from participating in the family's trick riding act, but he still has his rope tricks.
"We enjoy performing," he said. "It's why we work so hard at it.
"People who see you perform for 10 minutes don't see the hundreds of hours that go into practicing, training horses and driving to events."
He learned his tricks from others, Gratny said, and hopes future trick riders and ropers to learn from him.
"Annette wanted me to pass this on to kids," he said. "To show all of them, a rodeo family can work together and to glorify God with the talents he has given us."