Improvement comes slowly for 'Cats
Consider Marysville the prototype of what Brad Scott envisions for his DeSoto High football program.
Coach Steve Warner built that program piece by piece from the ground up several years ago by incorporating the middle school program into the system, instituting an offseason weight program and most important, never losing sight of the big picture.
The Bulldogs lost a lot of games in Warner's early years, but the defeats are now few and far between.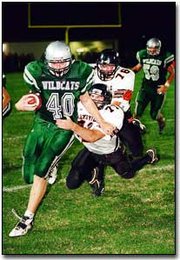 Last Friday, the Bulldogs, 4-1, came to town and gave Scott a glimpse of what he hopes is the future for the Wildcats. Marysville left town with a workmanlike 33-6 victory.
"That's the best team we've played this year," Scott said. "That's the benchmark for our program."
One might think head coach Scott would be getting down after his team dropped its fifth straight game to start the season. Not so, Scott said.
The first-year head coach expected his Wildcats to struggle this year.
"I just didn't know it would be this bad," said Scott, who helped to rebuild a program at Olathe South to the point where it is considered one of the best in Kansas.
Scott inherited a group that had just three players with any kind of measurable varsity experience and has slowly begun the process of building a program that will be markedly better in, say, two years.
He's played young athletes, who have taken their lumps, but continue to learn and improve each week. Success, in this case, isn't measured on the scoreboard, but in less tangible ways.
"We don't care about the score," he said. "We're taking it one play at a time. We're definitely taking a big-picture view with these kids and we are trying to stay positive.
"My biggest worry is that they don't get down."
Actually, there are some positives on which to build. Sophomore quarterback Greg Francis continues to get better each year. The playing time he gets this year will pay dividends in the future for the program.
Meanwhile, the Wildcats have turned into an efficient team when it comes to running the football. Michael Allen, another sophomore, turned in his fourth 100-yard performance of the season and is among the Kaw Valley League leaders with 550 yards this year. His 840 combined yards are an indicator of Allen's talent.
Expect to see a lot of Allen Friday night when the Wildcats travel north to Immaculata.
"We're playing a lot better than we did at the start of the season," Scott said. "We're trying to do a lot of stuff in practice fundamental-wise because that's where we are lacking. We're limited in what we can do offensively and defensively in a game because there is not enough time to work on schemes.
"But as the kids learn, we'll have to spend less and less time on fundamentals and we'll get better."
More like this story