Hoop dreams to begin
New coach brings a new attitude to `Cats
A basketball team is usually a reflection of its coach.
That said, you`d expect the characteristics of first-year coach Jason Generally -- hard working, energetic and intense -- to be the traits possessed by the DeSoto Wildcats.
The surprising part of this is that it didn`t take long for the Wildcats to begin mirroring their coach.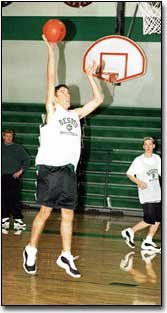 "I have never been around a group of kids who worked harder in the gym than these kids did during the summer," said Generally, who left his assistant coaching position at Olathe East to begin a new era at DeSoto.
The only thing the Wildcats lack is experience.
Chris Dexter is the lone senior, while five juniors, two sophomores and two freshmen will see considerable playing time this year.
"I think we`re going to be a lot deeper than people think," Generally said. "We`re going to play a lot of people. We`re going to need to because of the effort we plan to exude on the defensive end of the court."
Dexter, a 5-10 shooting guard, will lead the Wildcats. Junior point guard Matt Holton is a hard-nosed and heady player who is always hustling.
The front court will be led by 6-2 junior Tad Twidwell, a strong scorer from the perimeter, and juniors Justin Hobb (6-1), Bart McGivern (6-1) and Todd Manson (6-2). McGivern, an all-Kaw Valley League selection in football, gives the Wildcats some muscle down low.
Underclassmen will also play key support roles. Sophomores Paul Pipes (6-3) and Greg Francis (6-0) have a lot of athletic ability, while freshmen Nate Burns (5-10) and Pete Crall (6-2) have brought a maturity that has surprised even the ever-optimistic Generally.
"I`ve been impressed with the mentality of our freshmen," he said. "They work hard. They are quiet and they lead by example. It`s not often you see that kind of maturity in younger kids."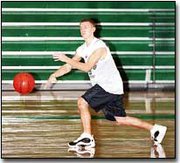 How does all of this translate in the won-loss columns?
That remains to be seen. It is not sure how many games DeSoto will win this year, but Generally expects his team to compete every night.
"They can come out and win some basketball games," he said. "I completely believe they are going to shock some people with how competitive they can be.
"There are a lot of people who think the split devastated DeSoto. It actually created more opportunities for kids in this school district. Our kids are going to take advantage of this opportunity."
The Wildcats open the season Dec. 5 when they take on Mill Valley.
"I love the fact that DeSoto has a rival school," Generally said. "People will learn to appreciate that and in time it will be more of a positive than a negative."
More like this story