Cris and Sherry Crawford may be starting a new Christmas tradition for area families.
"Come out, listen to Christmas carols, have some hot cider or chocolate, look at the crafts and cut down your own tree," Sherry said.
Actually, customers don`t have to cut down their trees, although they can if they want. Customers do select what tree they want from the stand of 1,200 pines and furs growing on the farm three miles west of DeSoto.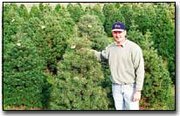 As Cris sees it, selecting a living tree offers several advantages over purchasing a pre-cut tree. The customer is better able to judge a tree`s height and shape when standing next to a living tree, he said.
More importantly, buyers will know how fresh a tree is, Cris said.
"When you buy a tree on a lot, it may have been sitting there without water for a week or two," he said. "Our trees will be fresh and smell good when they come into the house."
This is the second year the Crawfords are selling Christmas trees from their farm.
"We sold about 100 trees last year," Cris said. "We plan to do much better this year."
Last week, the couple was preparing for the weekend opening of their tree business. The two educators-- Cris teaches at Lexington Trails Middle School and Sherry in the Olathe district -- confine their Christmas tree business to weekends.
The Crawfords greet customers at a combination workshop/salesroom from which they offer Christmas crafts and tree accessories.
From there, customer can ride the 100 yards to the trees in a golf cart, where they can then select the tree that is the right size and kind for them. But informed customers may want to look for another feature, Sherry said.
"Folklore has it if you find a tree with a nest in it, it is good luck," she said.
The golf carts are used to fetch the trees back to the workshop, where they are placed in a mechanical shaker to remove loose needles, Cris said. Lastly, the trees are put in a biodegradable wrapper that can be used to dispose of the trees once the holiday season is over.
According to the adage, planting a tree is a sign of optimism. Much the same can be said about starting a Christmas tree farm. The Crawfords planted trees that will grace living rooms this Christmas season eight years ago.
The couple wasn`t new to the Christmas tree business last year. They had a smaller tree farm on land DeSoto High School now occupies. They also gained experience working on the Cedar Creek tree farm of Jack Russell, a man the two still see as a collaborator rather than a competitor.
Despite its holiday associations, the Chrismas tree business is a 12-month job, Cris said. Harvested trees have to be replenished, and the Crawfords plan to replenish two to three trees for every one taken over the next few weeks.
In June, trees must be pruned to their optimal conical shape. Tree farmers must also guard against parasites and disease.
While they cause no permanent damage, saw flies will cause branches to become discolored, ruining a tree`s value for a season, Cris said. The prospect of disease is much more troubling.
"We`re starting to get a disease called brown spot in Kansas," he said. "Once you get it, it can just about wipe out your stand. The treatment right now is $300 a tree. That wouldn`t be economically feasible."
And, of course, the non-native trees need watering to survive Kansas summers.
"We lost a few this year to the drought," Cris said. "White pines were especially vulnerable."
More like this story