Senior-led Jags look to fill scoring void
Matt Bohm said he was hopeful that Tiffany Bernard would make the jump from DeSoto to Mill Valley High.
The fact that she elected to stay at DeSoto has an affect on the Mill Valley program.
"It has a big impact," said Bohm, who was an assistant coach at DeSoto last year. "Tiffany Bernard is one of the strongest players in the league. I coached her. I know what she is capable of. Because of the split, we won't have her around."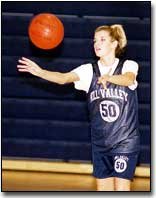 But Bohm will have a strong core of seniors a few of which played key roles in DeSoto's run to the district sub-state championship game a year ago.
"We're looking at five seniors who are going to be the backbone of the team," he said. "The younger kids will develop and will step in and play a role, but our five seniors will lead the way."
Tina Wiggins will be called upon to pick up the scoring slack. Amy Siler, Andrea Crall, Elizabeth Biggers and Jennifer Putney will join her in the starting lineup.
"Tina Wiggins can be our scorer," Bohm said. "She takes the ball strong to the basket. She does a good job of penetrating."
Siler and Biggers came off the bench last year and provided key minutes during DeSoto's stretch run. That experience, Bohm said, should make them better, more battle-tested this season.
"I think we're going to be competitive," he said. "So far, we're looking pretty good. We might not have the best basketball players in the whole wide world, but we'll battle every night. We'll be competitive."
More like this story