Rebounding nicely
The return of senior Bernard makes DeSoto a viable threat
The DeSoto Wildcats will lack depth. They will debut a bunch of girls who have little or no varsity basketball experience. And coach Dwight Spencer might be more nervous if it wasn't for the presence of one player on his roster:
Senior Tiffany Bernard.
Bernard's decision to stay at DeSoto High her senior year shaped a program that has been decimated by the school district's split to a second high school. It wouldn't be an exaggeration to say Bernard is the single most important athlete who remained at DeSoto High.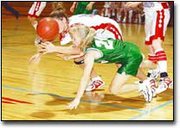 "Her staying is allowing us to compete," Spencer said.
All Bernard did last year was average about 16 points in leading the Wildcats to the district sub-state title game. That was at the Class 5A level. Imagine how dominant she might be with DeSoto moving down a notch to Class 4A.
"She is a scorer," Spencer said. "She can shoot from the outside. She can take it down low. We will post her up when we get the right matchup. She is a complete offensive player."
At 5-8, Bernard is being recruited by some local colleges, including Washburn University. She will likely continue her basketball career after this season, but right now her focus is in making the Wildcats a competitive squad.
"She is going to have to score like she did last year," Spencer said. "When she's off, we have some other kids who can step up, but she is the focal point to our offense."
The supporting cast, in this case is made up of Tia Bernard, Tiffany's younger sister, Ashley Carlson, Julie Beck and freshman Allie Hienen. Shannon Buntz will come off the bench to provide some quality minutes.
"We don't have much depth, but our top-line kids will be pretty competitive," Spencer said. "I don't see us going more than six or seven deep."
That can be attributed to the split, he said.
"After our starting five, we get into role players," Spencer said. "We lost a lot of depth to Mill Valley. There are a couple of kids over there who would have competed for starting jobs here and would have allowed us to run kids in and out."
Hienen has made an immediate impact with her new teammates. Spencer said the freshman has the ability to average in double figures this year.