Center stage
High school drama departments show their stuff
Gregg Ratzloff said he chose the dark comedy "Dearly Departed" for Mill Valley High School`s first theatrical production to give the new high school`s young actors a chance to gain experience.
"Since this is our first play, I wanted something without any leads," Ratzloff said. "It has a lot of ensemble parts -- a lot but of meaty roles -- but no one lead."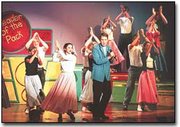 The play will be resented at 7:30 p.m., Dec. 1 and 2 at the Mill Valley High theater.
Ratzloff is new to the district this year, but he already has one production behind him. He helped with DeSoto High`s recent production of the musical "Leader of the Pack."
Ratzloff, who taught at Topeka`s Highland Park High School the past 15 years, said he saw a production of "Dearly Departed" in Lawrence. The play chronicles the reaction of a Southern family to the sudden death of its patriarch, including his widow`s demand that "mean and surly" be inscribed on his tombstone.
Freshman stage manager Courtney Summerskill said the large number of parts, 14 in all, makes her job of coordinating stage movements more difficult. But she said the actors have been working hard and the production is coming together.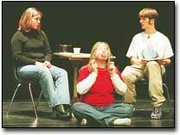 DeSoto has a tradition of staging productions with large casts. Junior Adam Dworak is one of the students who gained experience in DHS productions. It is an experience that he said is valuable as he prepares for his role as one of the sons of the departed patriarch.
His character is an adulterous husband and failed businessman on the outs with his brother, Dworak said. During the course of the play, Dworak said, his character discovers his father wasn`t as bad as he thought. It is a process that leads to personal growth.
"It`s a comedy, but there are some pretty serious things going on," Dworak said of the play.
Other cast members include Emily McNeill, Whitney Novak, Betsy Clarke, Katie Leffler, Lindsey Wilbur, Erin Starnes, Laura Hudson, Trinity Wright, Doogin Brown, Andrew Hess, Zach Cherry, Chris Parrish and Chris Troth.
More like this story