Power Play
Mill Valley bests rival DeSoto in first meeting
Last Thursday was the night the lights went out in DeSoto.
During the Mill Valley band`s halftime performance, the football stadium lights lost power and couldn`t regain power for about 20 minutes.
The DeSoto Wildcats couldn`t regain power either, and Mill Valley put 22 points on the board in the second half, defeating the Wildcats 35-0 in the first meeting of the district`s high schools.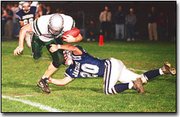 But in the battle of old and new schools, DeSoto gave its newfound rival all it could handle in the first half.
The Wildcats held Mill Valley scoreless until Jaguar senior Justin Cobb scored on a 14-yard touchdown run with 4:40 remaining in the second quarter. DeSoto had fumbled on its own 27 two plays earlier. The Jags followed with a 52-yard touchdown pass to senior Cody Plummer with 1:10 left in the second quarter to stretch their lead to 13-0.
It was a case of what-might-have-been for the Wildcats, who saw a 90-yard drive early in the first half go unfulfilled after a missed field goal.
"That was the epitome of our season," said coach Brad Scott. "We just couldn`t finish things."
On the other side of the ball was Mill Valley. Although his team started slow, MVHS coach George Radell was proud of his team`s finish and its first-ever sub-state district victory that helped his squad put the finishing touches on a 4-5 season.
"DeSoto outplayed us in the first half," Radell said. "Our guys played hard and had a great second-half effort.
Cobb, whose two touchdowns included a 70-yarder in the fourth quarter, said it was weird lining up against guys wearing uniforms he and many of his teammates wore a year ago.
"It was definitely strange; it was a different feeling," Cobb said. "We have a lot of respect for DeSoto. Luckily we got the job done."
Playing their final games for Mill Valley were: Cobb, Plummer, Jake Wheat, Mike Fields, Marcus Wheat, Zack Solon, Reece Wheat and Brad Buser.
Meanwhile, DeSoto, which finished the season winless, returns the bulk of its team next year and Scott looks forward to brighter days. With sophomores Greg Francis and Michael Allen stepping forward this year, it wouldn`t be farfetched to believe both teams would be better next season.
Allen was among the Kaw Valley League`s top rushers until a knee injury slowed him down in the sub-state opener against Eudora. Meanwhile, Francis took his lumps at quarterback, but earned the kind of on-the-job training that will make him a better quarterback in the years ahead.
More like this story