Reddy or not
DeSoto High scholastics teacher will step down after 17 years
After 17 years as scholastic team coach, Kathy Reddy has a case full of trophies and a wider range of knowledge than she ever imagined.
The DeSoto High School teacher began coaching her school's scholastic team in 1983, when she was introduced to High-Q, a scholastic competition sponsored locally by Washburn University. Reddy decided DeSoto should participate in the annual competition after hearing about it from a fellow teacher. She rounded up some of the school's brightest students and, in 1984, made an impressive debut.
"We ended up in second place that year. We went back in 1985 and we got second place again," she said. "When we went back in 1986, we won it."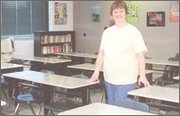 As the idea of scholastic teams became more popular, the Kansas State High School Activities Association got involved and an organized league now known as the Scholar's Bowl was formed. The new league allowed teams to compete more than once a year.
Reddy is the only head coach DeSoto's team has ever had. Under her guidance, the school has competed in countless tournaments and qualified for the state tournament several times, finishing as high as second place on a couple of occasions.
"We have more trophies and medals than most schools in the area," Reddy said.
When school starts next fall, the students will have a new scholar bowl coach. Although she has mixed feelings about quitting, Reddy said she believed the time was right to pass the school's winning tradition on to a new coach.
"Since they're splitting the high school into two schools next year, I thought it might be a good time for me to bow out. I was 35 when I started and I'm 53 now. I think I'm a little tired," she said. "It's taken me over a year and a half to make a decision on this."
Reddy's assistant coach, MaryBeth Mattingly will head up the scholars' bowl team at the district's new high school, Mill Valley. Reddy's replacement at DeSoto High School has not yet been chosen.
The time commitment required by team members and coaches weighed heavily in Reddy's decision to step down. The scholars' bowl team, which includes as many as a dozen students at a time, begins practicing in August, about the same time the football team starts fall training. The team practices through the end of the season in February.
"We practice a minimum of three times a week after school," she said. "And we compete in a lot of tournaments throughout the year."
Although she looks forward to the extra free time, Reddy said she knows it won't be an easy adjustment.
"I've already told MaryBeth I want to go to a few tournaments with them next year," Reddy said. "I know it's going to be tough at first."
Besides the interaction with the students, Reddy said she will probably miss the practice sessions the most.
"I've picked up so much information just practicing with the kids," she said. "I know things in subjects I haven't taught or studied in years.
"The questions our kids answer in competition are a lot tougher than the ones asked on Jeopardy."
It's may be Reddy's love of game shows like Jeopardy that made her such a natural as a academic team coach.
Her knowledge of obscure facts has not gone unnoticed by her friends and family members, who often encourage her to try out for game shows like the current hit, "Who Wants to be a Millionaire?" Reddy said in the past, she never took those suggestions seriously .
"Maybe this summer when I have more time on my hands," she said. "Who knows? I may give it a shot."
More like this story