Unfinished business
Wildcats look for state crown that eluded them a year ago
Despite losing six seniors from last season, DeSoto High's softball team has high hopes for this season.
"Last season is hard to beat," coach Randy Keith said. "But, I don't see why we cannot get right back up there again this season."
The Wildcats finished the season 23-1, but fell short of their state-championship goal. Their only loss came at the Class 5A state tournament against Bishop Carroll. They had to settle for third place.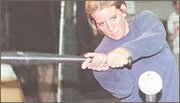 "We could've won, but things happened that prevented us from advancing," Keith said.
The girls agree this could be another big year.
"We have a good new group of girls," said senior Jenny Fletcher. "I think that we can accomplish the same things we did last year."
And, even with some key players gone from a year ago, there is still a strong nucleus of talent and leadership.
"We definitely have the potential to make it to state because we still have good players," said senior Lauren Dickinson. "Pitching and infield will be our strongest areas."
DeSoto has four returning lettermen. Keith said the top overall returners are seniors Ashley Perkins, Fletcher, Jenna Thom, Brooke Moyer and Chris Richardson.
Fletcher currently is rehabilitating a torn anterior cruciate ligament in her knee. She should be able to play around the first game.
"We still have a lot of work to do," Keith said.
"Even though we have strong juniors coming up, there will still be room for improvement."
Thus far, the team has run into weather and facility complications. The Wildcats have been practicing in a warehouse. Keith said this is a minor setback.
The reason for optimism is the pitching staff. If pitching is the key to fast-pitch softball, the Wildcats, led by staff ace Perkins, are poised to make a run at the Kaw Valley League crown.
Keith said the Wildcats should be solid on offense as well.
"We probably lack a little where speed is concerned, but we'll make up for it with good base hitting," Keith said. "We will just have to get the bat on the ball and make it happen."
The Wildcats open the season April 4 with a doubleheader at Bishop Ward, which figures to be one of the toughest teams DeSoto will face in the regular season.
"We'll shoot to go to regionals and state again," Keith said. "I don't see why we can't do this. We just have to put all the tools together."
The Wildcats' first home doubleheader will be April 6 against Perry-Lecompton.
"It will be toughest to overcome losing the six girls," Keith said. "These girls will need to find a unity like we had last year."