Generally speaking
New coach has master plan to rebuild DeSoto High's basketball program
Not many people have traveled to other countries, played college basketball, been offered chances to play professional basketball in Europe and been given the chance to coach college teams.
But Jason Generally, in spite of his relatively young age of 27, has done all that. He now readies himself for his first head coaching job at DeSoto High.
"I want the team to be able to go out every night they play and play hard," he said. "And I want them to play as best as they can. If they do that, then we will be successful."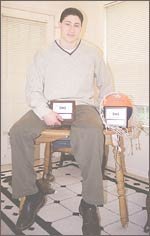 Rebuilding a once-proud program takes time, but Generally is the first building block, the foundation. His goal is to begin building piece by piece. The starting point is not the high school, but the feeder programs.
His plans include making the basketball programs at the junior high and high school more consistent.
He will also conduct summer camps. The first week will be for high school players. Generally will also have a Junior Wildcats that will be divided into grades one through five and then grades six through eight.
He hopes, through camps and an additional weight and conditioning program for the high school players, to build a better team.
"I hope we can have a program that people can come out and enjoy," Generally said.
The blueprint for the plan comes from Olathe East, where he served as Jim Super's top assistant the last four seasons. The Hawks have been one of the best teams in the Sunflower League and won the 1998 Kansas Class 6A championship.
Generally would like to bring that kind of success to DeSoto. His basketball pedigree makes one believe just about anything is possible.
Basketball has been a constant in his life, as you might expect from the son of a high school basketball coach. His formative years were spent around the gym.
"I was always around basketball," he said.
He played high school ball at Olathe South. In college, Generally was a four-year starter at point guard for William Jewell College in Liberty, Mo. In two of those years, the Cardinals advanced to the NAIA Final Four.
While in college, Generally pursued two fields of study. He was interested in communications and English and contemplated a career as a sports journalist before opting for teaching.
"I fiddled around with broadcasting as a sports announcer," Generally said.
While a junior in college, Generally realized his true calling: coaching.
His younger brother, Justin, played for an AAU team, which Jason began to coach. He caught the coaching bug.
"I had a great time and really loved it," he said.
Super was instrumental in getting him started on his career path.
"One summer, I called Jim Super," said Generally, who had played for Super at
See Generally, Page 2B
Olathe South. "I told him that I want to coach. He told me I could do some student teaching for them."
He did his student teaching at Olathe East and was later hired to teach English literature.
"Coaching is like teaching. It's just a different setting," Generally said.
Coaching basketball allows him to combine his passion for teaching and his passion for the sport.
Generally said Super basically handed the guards over to him at times. Super was the head coach, but listened to Generally when he had something to say.
"Practice is the best part of any season," Generally said. "I was fortunate to work with a coach that gave me that kind of freedom."
Under Super, Generally had the chance to know what it was like as a coach for a a state champion.
Generally has taken advantage of other opportunities presented to him.
Last year, Generally traveled to Switzerland to coach in the Nike European All-Star Clinic. He was able to coach the top 20 kids in the clinic.
"After that, they asked me to come back every summer," he said.
This summer Generally plans to take six or seven players from Olathe East. Next summer, he hopes to take some players from DeSoto.
While still working toward his degree, Generally had offers to play basketball in Germany and Italy.
"I decided that I wanted to finish my degree," he said. "I figured I could coach longer than I would be able to play."
Another big opportunity for him will be April 21 when Generally will spend the day with Kansas University Roy Williams and his staff.
"I am going to soak up whatever I can," he said.