Built to last
DeSoto man has help in relocating, raising 120-year-old barn
Darrel Zimmerman is having an old-fashioned barn raising.
But before he can raise it, he has to tear it down.
Zimmerman, owner of Kill Creek Farm in DeSoto, lives in a house that predates 1879. He wanted a barn, but a new one wouldn't go with his house. He wanted one that would serve a historic purpose as well as a practical one.
After many long rides in the country, Zimmerman found the barn he wanted. It was near Gardner, on the land of Ernest Waitzman. Zimmerman knocked on the door with an offer to buy it.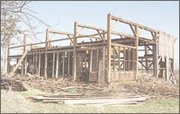 "His wife answered the door and told me her husband had been wanting to get rid of it for a long time," Zimmerman said. "So, they said I could have it."
As one problem was solved, another was created.
Zimmerman had to find a way to get the 120-year-old barn to his farm. With the help of some Amish workers from Missouri, Zimmerman is taking the barn apart piece by piece. It will be reconstructed and restored at his farm, using as much of the original wood as possible.
Zimmerman and his helpers were busy Monday pulling out wooden pegs used to hold the support beams in place. The pegs were placed in a bucket to be used in the rebuilding. A recent rain had caused the pegs and the beams to swell, making them difficult to remove.
"We made a tool to get them out," Zimmerman explained, holding a sledge hammer and a metal rod. "The pegs aren't straight, they curve a little. They made them that way on purpose, so they wouldn't slip out."
The crooked pegs made have done a good job of holding barn together for more than a century, but they made the job of dismantling it a difficult one.
Once completed, the barn will be used as a schoolhouse for children who tour his farm, Zimmerman said. It will also be used during his annual Harvest Festival, held in October.
He hopes to have the barn ready for the Bee Keepers Field Day on June 3. To make that deadline, he is going to need some help from the community, he said.
"A lot of people told me they were interested in helping with this," he said. "I need volunteers to help me get it up by then."
He plans to raise the barn's first wall in about a month, he said. But before that can happen, there's a lot of work to be done.
"People remember the images from 100 years ago when people would raise a barn in a single day," he said. "What they don't realize is that there was a smaller work force that spent weeks cutting and fitting all the pieces together."
Once the barn is in place, there will be a ceremony to dedicate it under its new name, the White-Waitzman Barn. Zimmerman said he wanted to honor the Waitzmans who donated the barn, and the White family, which originally built the barn in 1880.