Wildcats open sub-state play in Topeka
Leavenworth — If you tracked the progress of the DeSoto boys basketball team from early November to the present, the chart would show a team on the rise a squad that has come a long way.
Still, if the season is going to extend beyond Thursday night, the improvement will have to continue.
The Wildcats begin Kansas Class 5A sub-state regional play by traveling to Topeka-Highland Park to square off with Topeka-Seaman in a 7:30 p.m. semifinal contest.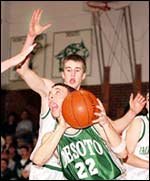 With just seven wins during the regular season, improvement like moral victories has often come in subjective ways. But now, with the next loss definitely representing the last game of the season, the grading system has changed.
DeSoto closed out the regular season last Friday night with a 49-40 loss at Immaculata. The Wildcats had their chances, but failed to get the job done in the fourth quarter.
"We just could not execute down the stretch," said Justin Bogart, Desoto's assistant coach.
DeSoto relied on a stifling defense, which held the Raiders to just six third-quarter points, to overcome an eight point half-time deficit to tie the game at 28 going into the final quarter.
The two teams traded baskets early in the fourth period and DeSoto managed to take a lead before fading down the stretch.
DeSoto's Jason Andrews hit a driving shot through the lane to tie the game, 33-33. On the next play, Dominique Burgin stole an Immaculata pass and was fouled. Burgin made a free throw to give DeSoto its first, and only, lead of the game.
Free throws were the difference in the closing minutes as Immaculata capitalized on its opportunities from the line to pull away from the Wildcats. Raiders forward Tom Vosseler, who finished with 22 points, put the game on ice by hitting on four straight free throws.
"We pulled away at the end," said Immaculata coach Dan Schmidt. "Desoto missed some free throws there at the end. We made the key shots and our free throws."
Immaculata opened the contest with an 8-0 run that was halted by an Andrews bucket. The Wildcats then used tough defense and balanced scoring to claw their way back into the game.
Andrews and Cody Ptacek each scored nine points to lead DeSoto.
More like this story