Students throw a party for seniors
No one can accuse Emily Abels and Denise Robertson of not taking their homework seriously.
When their social studies teacher asked them to write a report identifying a social need in DeSoto, the two Lexington Trails eighth-graders did him one better. They threw a party.
Abels and Robertson decided to write their paper about DeSoto's senior citizens. The girls reported that area seniors needed more planned activities. Since they were also charged with solving the problem, they concluded that a senior citizens social is just what the town needed.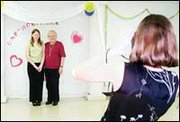 That's where their assignment ended and a volunteer spirit took over.
"We talked so much about it when we were writing the paper and it sounded like fun. We just decided we would go ahead and make it happen," Abels said.
With the help of several of their teachers, the girls began planning the event. One teacher helped them print invitations while another helped them pick the appropriate music. The girls even got some help from their families.
"Denise's grandfather told us not to call it a dance because then singles wouldn't be as likely to come," Abels said. "He suggested that we just call it a social and let people dance if they want to."
With that in mind, the girls obtained addresses from a local senior citizens group and mailed 175 invitations.
It took Abels and Robertson about two hours after school last Friday to turn their school cafeteria into a suitable social hall.
"We had to make all the decorations and we only had enough helium for one balloon, so we had to blow up all the rest," Robertson said.
The girls also provided cookies and punch for their guests, which included Abels' grandmother, Marcheta Abels, who said, she was proud of her granddaughter's initiative and thoughtfulness.
"I think it's kind of nice that they're interested in older people," she said. "A lot of kids their age aren't."
About 30 seniors showed up for the social and a few of them even decided to dance.
Guest GeorgeAnn Taylor spent her time visiting with friends. Taylor said she was surprised to hear that the girls had organized the event on their own.
"I didn't know who was hosting it until I got here. I guess I just missed that on the invitation," Taylor said. "I think it's a very nice thing for them to do and I think they did a wonderful job."
More like this story