DeSoto's Goodin does it all
While some high school students would gladly settle for being the Senior Class president or an all-conference football player, DeSoto High senior Josh Goodin has achieved both of those feats.
And he hasn't stopped there.
Goodin was recognized at an awards dinner at North Kansas City's Park Place Hotel last Sunday night for being named to the 1999 Greater Kansas City Coaches Association's Scholar-Athlete Football Team.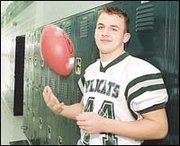 Needless to say, Goodin enjoyed his night in the spotlight in Kansas City.
"The dinner was a really special night," Goodin said. "My whole family was there, and Deron Cherry was the featured speaker. It was just a neat event."
Gene Wier, the past president of the GKCCA and head coach at Olathe North, said competition for the honor was fierce this year, and that the selection committee had a difficult time selecting the honorees.
"The committee looks at a combination of football and academics, and there were a lot of kids fitting the criteria this year," Wier said. "The team is obviously going to be full of great football players, but we also want to get the guys who are involved in many areas. We had a great group of kids this year. The ACT scores of the honorees this year ranged from 23-34. Those are high scores."
Wier said the selection process involved player, coach, and principal applications. Once the applications were submitted, the committee reviewed the applications and made their choices. Wier believes the award not only allows the scholar-athletes a chance to enjoy a wonderful evening, but also gives them recognition for the future.
"The kids get to enjoy of the neatest evenings they'll be around, and also have something that looks great on a resume," Wier said.
Possessing a great resume should be no trouble for the well-rounded Goodin. The 6-1, 225-pound fullback/linebacker was an All-Kaw Valley selection in both his junior and senior seasons. He was a captain of the football team. Goodin is a captain for the DeSoto basketball team and also runs track, although his main love is on the gridiron.
"I've got so many things going on in my life, but if I could I would only focus on football and academics," Goodin said.
Goodin's leadership positions within the school involve being the school's Senior Class President and National Honor Society President. Goodin also excels in drama and chorus. He played the lead part in two of DeSoto's school plays and attended the All-State Chorus three years in a row, which Goodin stated was a first in DeSoto High history. This long list of achievement may seem overwhelming at first glance, but Goodin really hasn't found his high school career too strenuous.
"I've kind of looked back at the last three years and wondered how I've done all those things, but it's all come pretty natural to manage all of this," Goodin said.
Goodin knows that a student-athlete can't complete such a distinguished career on his own and wanted to thank those that have helped him along the way.
Goodin is planning on playing football in college and has narrowed his choices to the Air Force Academy, Naval Academy, and University of Nebraska at Kearney.