Wildcats green
Seven-on-seven tourney provides young QBs some needed experience
DeSoto High School's young and inexperienced football team needs a quarterback to take charge, and three players have stepped up to the challenge.
Last weekend's seven on seven tournament in Eudora was just what junior Greg Francis, sophomore Justin Haub and freshman Tyler Leahy needed to gain much-needed experience and confidence commanding the young team.
"They're just doing a really good job," said Brad Scott, head coach of the DeSoto High football team. "They're picking up the offense a lot faster than I thought they would."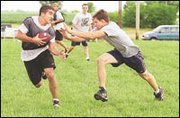 Scott said Francis seemed to be making the better decisions and would probably slide into the starting role.
"Greg Francis is probably further ahead than the other two right now," Scott said. "But they're all going to get plenty of snaps because you never know when your second string quarterback is going to have to come in."
The seven on seven games featured strictly passing offenses and gave the quarterbacks the opportunity to call plays for an intense new offense.
"It's a challenge," Francis said. "All the other teams I've been on, have been just run, run, run so passing is a big difference."
And passing is what the team will do most in the fall. Scott, who used to coach at Olathe South High School, installed a run-and-shoot offense that brings a fast-paced, rapid-fire barrage of passing an offense that relies heavily on the quarterback.
"They have to be able to make great decisions. That's the key," Scott said. "They need to walk up to the line of scrimmage and go 'here's the play we have to run.'"
Because seven on seven rules
See QBS, Page 2B
allow only passing, Scott said the Wildcats were able to run many of the same patterns they would run in the regular season.
"We feel like we are getting further ahead because we're doing what we're gonna do in the fall," Scott said. "We run our offense. For us, this is real football."
And for Francis, this fast-paced football is a welcome change.
"I like passing. It gets things moving," Francis said. "It's more exciting than running."
But Francis won't have the advantage that Donny Slavinski will have. The junior, who was DeSoto's junior varsity quarterback last year, is Mill Valley High School's varsity quarterback this season. He will have the advantage of working with the same plays, many of the same players for the same coach because much of the DeSoto program will move to Mill Valley in the fall.
"It's always easier when you're running the same thing. You get used to the same offense," Slavinski said. "You always know where your guys are going to be."
Although the players will be starting fresh in DeSoto, Scott said they would learn the offense quickly because they will play more than one position.
The run-and-shoot offense requires a lot of receivers and a lot of experience on the field, so Scott said when the other quarterbacks were not taking snaps they would fill in downfield.
"In our system, the back up quarterback is probably going to be a starting receiver because we have to put our best players on the field," Scott said. "And usually our back up quarterback is one of our better players."
And that is exactly what Haub wants.
"I kinda like receiver right now," Haub said. "But if I need to step in for Greg I will."
This weekend, DeSoto and Mill Valley were both eliminated after the three-game round robin portion of the tournament, and never faced each other. DeSoto finished 0-2-1 and Mill Valley finished 1-2. Louisburg went on to beat Gardner in the championship game 28-0.