Gardner: It's not Pebble Beach, but not bad, either
Johnson County course has come a long way in 11 years
Editor's note: This is the third part of a summer-long series highlighting some of the better golf courses in the Kansas City metro area. This week, we take a look at Gardner Golf Course.
About 11 years ago, Jim Pruitt bought a nine hole golf course. The course was typical of small town Kansas courses: sand greens and a wide open shooting gallery that left participants ducking for cover as the holes ran back and forth.
Today, Gardner Golf Course offers 18 fair holes of fun golf. The sand remains, only now it's around the greens, not on them.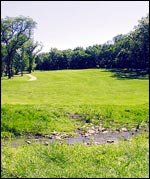 Pruitt and his son Curt still run the course and locals agree the course has come a long way. A couple years after buying the course, the Pruitts cut a swath through adjacent tree-lined land and carved out another nine.
They mixed the existing holes with the new so both nines had some new holes and the old standbys. The result is a course that varies from woodsy target golf to wide open fairways with small greens surrounded by collars or bumpy berms.
Just 15 minutes southeast of Eudora, about the same distance from DeSoto, Gardner Golf Course has a variety of fair, challenging holes for golfers of all levels.
Lots of Kansas courses get dried out during a hot and windy summer.
Gardner has made a commitment to keeping the greens alive by watering during the day (they may be a little too eagerour group was on the 18th fairway when the sprinklers shot up around the 18th green).
The front side has several holes that force golfers to leave the driver in the bag. The third hole is a dog-leg right with a fairway that narrows to about 20 feet before opening up to an elevated green. The safe play is a long iron off the tee that will leave you about 150 yards to the pin through the trees right and left of the fairway.
The next hole is birdieable (though neither I nor my playing companion did) for players of almost any ability. The 450 yard par five fifth is another dog-leg left that offers an uphill tee shot that unless you nearly miss the ball, is followed by an easy iron lay-up in front of a wide open green. The hole becomes a little tougher if the people four holes ahead of you stroll off the ninth tee and snag your ball.
My playing partner almost lost his Staff SuperSpin Distance Control High Draw Roller, or whatever ball he was playing, when the gal on nine "mistakenly" picked up his ball, thinking it was her husband's mulligan. Tough luck for that guy-dripping his mully 18 yards off the tee directly into our fairway.
The front nine plays 3,060 yards from the whites, and on most holes, there isn't a lot of difference between the whites and blues. This makes you wonder where the 131 yard difference exists between the whites and blues, which play to 3,191 yards, par 36 from either tee.
The back starts like the Congressional in DC ends: a par three over water. It's followed by a 515 yard par five with OB right and nice views of Gardner Lake. With a strong (three club?) wind like we played in, it's reachable in two, which you'd think would push the slow threesome in front of you. But not always, apparently.
The signature hole looks nothing like your typical public municipal course. The 13th hole is a bending 556 yard par 5 which is tight right and left off the tee, with a creek to carry to an uphill green with a big slope on the left side. Suffice it to say, plan on it being a three shot hole and be happy to move forward with five. The course offers a couple more opportunities for the brave to flirt with water or a low score, but take it from us: don't try to cut the 18th too tight or you'll end up like my partner: over-thinking the water.
The dog-leg (sound familiar?) 18th tee points you directly at the hole. Thank you very much Mr. Pruitt. It also points you at the water. The distractions of the sprinkler going off and my subtle comment, "looks like your ball is going to get wet" was a little more introduction to doubt than he needed: he duffed it. Short of the water. Only to knock it on the back edge, two putt for bogey and tie me, thanks to my loss of concentration.
Gardner's greens are fairly soft and will hold. There's no tree in the middle of a fairway (although there's a couple holes with power lines crossing them, I'm not sure what the ruling there would be). In all, it's a nice substitute from the cookie cutter municipal courses packed with fivesomes on the weekend.
Gardner isn't Pebble Beach. But with only a few holes having some sand, it's not Omaha Beach, either. Gardner is a close course worth the short drive and $15 green fee weekdays (only a buck more on weekends) to play. For tee times, call (913) 856-8858.
More like this story