The DeSoto school year ended last month, but the halls in area schools were not empty for long.
DeSoto students are learning summer school is no longer just for students who have fallen behind in class.
The district's Summer Academy offers classes for kids who want to get a jump on next year and for those who just want to have some fun.
About 650 kids are participating in this year's program, up from about 150 when it started four years ago. Some students are learning more about computers and the Internet. Others are getting together to trade Pokemon cards and some are keeping in shape with basketball or volleyball classes.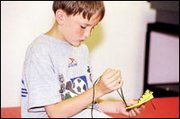 Many students are doing nothing more than they would do at home. Keil Hileman has five television monitors in his classroom where students can play video games. The difference is, they're interacting with other kids and are closely supervised by the teachers.
Some activities require more supervision than others. Hileman also allows his students to build and launch their own miniature rockets. Under his watchful eye, the students learn what makes a rocket work and how to make them more aerodynamic.
The Summer Academy was formed with the intent of giving area kids something constructive to do over the summer. The idea is catching on with students and teachers.
Program coordinator Paula Henderson said teachers have had a great time coming up with ideas for classes to keep the kids interested.
Starside Elementary teacher Angela Redmond decided to teach a Pokemon class when she discovered the learning potential involved.
"We used them in our classroom during the school year. The kids were always bringing them to school and driving me crazy with them so I thought about how to make it educational for them," she said. "The kids made their own cards, about themselves, not the characters."
Students in Redmond's summer class made card holders and played the Pokemon board game. Redmond even let the kids bring the cards to class for a trading session.
The teachers' initiative has not gone unnoticed.
"A lot of the kids from the first week have come back and signed up again," she said. "So, I start out with eight students and end up with 40."
The classes will continue through next week.
More like this story