A territorial issue gets explosive
Jim Oyler Jr. said he would sell fireworks from his DeSoto area property despite a letter from Johnson County officials ordering him not to do so.
Oyler, who lives just outside DeSoto city limits, said he had a right to sell the fireworks which are banned by ordinance throughout the county.
A member of the United Tribe of Shawnee Indians, Oyler said his property is not a part of the county and therefore, he is not bound by county ordinances.
Johnson County lawyers disagree.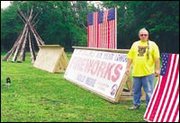 Don Jarrett, chief counsel for the county, said Oyler held no special rights when it came to selling fireworks.
"It's our position that the sale of fireworks is illegal and sales out there fall into that arena," he said. "We have provided notice to that individual that the sale is illegal and we will take legal action if sales occur."
Oyler said he doubted that would happen.
"They're not going to come out here. They're afraid to come out here because I'll slap a lawsuit on their asses so fast they won't know what hit them," he said. "They've already been informed to stay off our land and leave us alone."
The dispute stems from a difference of opinion on the federal status of Oyler's tribe. Oyler contends his tribe was recognized by the federal government in the form of a treaty signed between the United States government and the United Tribe of Shawnee in 1795. The government signed the 94 acres he and his family now live on over to the tribe in 1854, Oyler said.
County officials say the tribe is not recognized by the federal government. Oyler said tribe officials were currently taking legal action to qualify the tribe for federal exemptions granted to many other tribes across the country. He contends, however, that the tribe is outside county jurisdiction regardless of its federal standing.
In a letter addressed to Oyler, county attorney Robert Ford said the county would take legal action if fireworks were sold.
"To my knowledge there is still no federally-recognized tribe with jurisdiction over Shawnee Reserve No. 206. As you know, without such tribal jurisdiction, activities on Indian land fall within the purview of the local, non-Indian government," he wrote.
If Oyler opens for business, Ford said, he would be "cited and appropriate legal action may be taken to prevent the violation."
Oyler said he would not pay a fine if one was levied against him by the county.
"I wouldn't pay it because the county doesn't have civil jurisdiction here," he said. "The only way they can put me out of business is to let everyone else sell them too. As far as jurisdiction is concerned, he (Ford) is so low on the totem pole, he's underground."
Money raised from the fireworks would go to his tribe, Oyler said. He has sold fireworks for the past three years on the Fourth of July and New Year's Eve. He said this is the first year he has received a letter from the county.
With signs advertising the fireworks in place, Oyler said he would open for business within the next few days. As far as he's concerned, he said, the issue has been resolved.
"I guess you could say it's Indians 1 and non-Indians 0," he said.
More like this story