Tomahawk Hills offers many challenges
Editor's note: This is the second part of a summer-long series highlighting some of the better golf courses in the Kansas City metro area. This week, we take a look at Tomahawk Hills in Shawnee.
Shawnee
Few public golf courses can claim greens as treacherous as those of Tomahawk Hills golf course.
Blame it on the dry weather.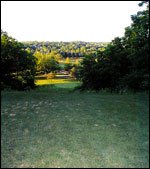 Credit it to some greens-keeping wizardry.
Or, attribute it to anything else you wish.
The bottom line is dropping a ball on a green at Tomahawk Hills is a lot like landing one on a table. Play a few holes there and you begin to feel the frustration John Daly felt at last year's U.S. Open.
With the boys from the U.S. Golf Association juicing up the greens at Pebble Beach this week, it's a pretty good time to take a look at Tomahawk Hills, which, I should say, will never be confused for Pebble Beach, but it is a pretty nice golf course, nonetheless.
The fast greens, narrow tree-line fairways and deep rough present golfers of every level with challenges. It's a course that rewards not he who hits it the farthest, but those who hit it the most straight.
A long course, this isn't.
Twelve of the holes are fewer than 400 yards from the tips. As a result, many experienced golfers do a smart thing by leaving the driver in the bag for the vast majority of the holes.
There are three holes worth mention on the course, which sits to the north of Shawnee Mission Park and winds its way through a terrain littered with hills and trees.
Hole No. 7
The par 5, 476-yard seventh forces a golfer to hit from an elevated green to the top of another hill, which is unattainable to the average golfer, meaning the second shot is an uphill lie over the hill and down the valley about 200 yards to the elevated green.
Getting onto the green in regulation is an accomplishment. Getting a par is no small feat.
Hole No. 9
Golfers hit from atop a tree-lined hill (mountain) toward a green 162 yards away. It's a nice gimmick hole that gives someone an idea of what to expect from the course's finishing hole.
Hole No. 18
One good gimmick deserves another. You play from atop the same hill (different location) and hit toward a green that is 178 yards away. Choosing the right club is one of the challenges.
So is hitting it high enough to clear the hill, which stretches forward and takes up a great deal of what should be the fairway. It's listed as a par 3, but it's a hole that makes you work hard to earn your par.
Green fees at Tomahawk during the week (Monday through Thursday) are $17. The cost is $22 for play Friday through Sunday and on holidays. Golf cart fees are $12 per player.
More Golf Reviews
More like this story