On the run
Going the distance demands a commitment to summer work
The lights are down, the grandstand is empty, and the sand pits have been raked for the last time. Track season is over and many athletes have traded in their spikes for swimsuits.
Many, but not all.
Distance runners are often the exception. For them, the summer is a good time to stay in shape and get some additional training in preparation for the high school cross country season, which begins in August.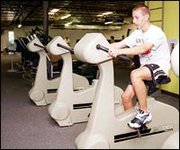 After that season, they'll use the free time to get ready for the track season. In other words, training is a year-round venture or running becomes more than a mere exercise in training.
It's a lifestyle.
"I just really enjoy running. It keeps you healthy all year round," said DeSoto High junior Griffen Lee.
In preparation for the cross country season, Lee and teammate Brian Mattingly participate in a training program at Health Plus, designed specifically for high school runners. Mattingly, a junior, believes that knowing there is a group of runners waiting for him to show up is all the motivation he needs.
"Being with friends makes running so much more fun," Mattingly said. "Plus, I get a chance to see how other kids train and compete. (Running) has become something I really love."
According to both Lee and Mattingly, the program starts out slow. Each will log about 25-30 miles a week However, by the end of the summer, the weekly mileage can top out around 60, with runs of up to 15 miles.
"We usually have one long fun run a week were we go farther than we ever have," Mattingly said.
In addition, the group will put in some time together riding stationary bikes for cross training benefits.
For Lee, training with a group allows him to push himself more than if he ran by himself.
"Sometimes, you run with people who are stronger and faster than you are and you have to work harder to go past your limits. Sometimes, you're the better runner and you have to push the people you're running with to give it all they've got," Lee said.
Junior Angie Matlack, however, doesn't plan to join a training group this summer. Instead, she will put in miles alone and rely on a "runner's high" to keep her motivated.
"I just feel good after I run. It's what keeps me going," Matlack said.
Like Lee and Mattingly, Matlack plans on starting out slow, running three to four times a week and working her way up to running almost every day from eight to 10 miles.
"Sometimes I incorporate bike riding into my schedule, but I really enjoy running, so I keep doing it," Matlack said.
Junior Tina Wiggins also plans to spend some time on the road this summer by herself, preparing for her first cross country season this fall.
"I've never run cross country before and I want to be ready. That's the benefit of training in the off season. You don't spend all the practice time getting in shape. You're already there," Wiggins said.
However, with a group or by themselves, all agree that running isn't a temporary hobby to be dropped after high school.
For example, Mattingly's goal is to someday complete a marathon. Lee plans to compete in some of this summer's road races, like the Freedom Run in July.
"I also would like to compete in a triathlon someday, too," Lee said.
While Matlack says she has thought about running in races in the future, for right now, it's good enough for her to get out on the road and put in miles.
"It's something I want to do for the rest of my life," Matlack said.