Joining the battle
At Relay for Life, the fight against cancer is personal
As Kathy and Alan Hays made their way around the track at Lexington Trails Middle School Friday night they had one thing on their minds: ending a family legacy.
Both cancer survivors themselves, they have dealt with more than their share of the often-deadly disease. Kathy lost both of her parents to cancer ; Alan watched his father and a number of family members die from the disease.
Kathy and Alan walked hand in hand, alongside about 20 other cancer survivors, during the survivors lap at DeSoto's annual Relay for Life, a fund-raising event for the American Cancer Society. They walked for the loved ones they had lost and for future generations they hoped would live long, healthy lives.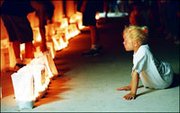 "We have a daughter and two sons. We both have a family history of cancer and that's scary," Kathy said. "We keep both the past and the future in mind."
Watching family members suffer with and eventually die of the disease has made Kathy and Alan well aware of the need for cancer research.
"I'm the fourth generation in my family to have cancer and I'm the only one who's survived it," Alan said. "So I understand the value of research and how important things like this are."
"It's heartbreaking to watch someone you love die," Kathy said. "We went through the whole hospice thing a couple of times and it's tough. We hope someday there will be a survivor herself, James explained she had benefited from cancer research made possible by such events.
"I was told those three words no one ever wants to hear: 'You have cancer,'" she said. "The drug I used to help get me through the chemotherapy was made possible by research done by the American Cancer Society."
Charlene Braley welcomed her fellow cancer survivors in the group before leading them around the track for the traditional survivors lap. After three bouts of cancer, Braley said she remained hopeful there would be a cure in her lifetime.
"It's my hope, in the near future, it may not be the near future, but as soon as possible, we will gather here for a lap of celebration," she said. "I think with everyone's hope and prayers that it will happen."
About 20 cancer survivors, wearing special beige shirts, were greeted with applause as they made their way around the track for the ceremonial lap.
As the sun went down, organizers lit close to 200 luminarias as a tribute to those who have died of cancer and those who are continuing to fight the disease. Participants purchased the luminarias for a minimum donation of $5.
Hitchcock said the event was a success although it did not bring in as much money as the city's two previous relays.
"We raised $13,000 the first year and about $17,000 last year," she said. "It just seemed like there were a lot of things going on this year and that could have affected it."
While still wrapping up things from this year's event, Hitchcock is looking forward to next year.
"We're going to get more teams involved next year. We had 11 teams this year which is about the same as last year," she said. "We're going to try to get more businesses out there next year."
Hitchcock pointed to the DeSoto School District as a good example of what she'd like to see more of next year.
"They were great. We could not have done this without them. Besides having three teams, they donated use of the facilities and helped set everything up," she said. "We would like for more people to get involved like that. This is such a wonderful thing because almost all of the money raised goes to research and patient services."
The Pioneer 4-H Club won the best campsite award for its theme, "Round up a Cure for Cancer."
More like this story