DeSoto raises $11,000 for the cause
DeSoto residents raised close to $11,000 for cancer research Friday night fight during the city's annual Relay for Life.
Residents pitched tents, cooked out and walked countless laps around the track at Lexington Trails Middle School to raise money for the event, which is sponsored nationally by the American Cancer Society. The DeSoto walkathon has been coordinated by Jodi Hitchcock of the Multi-Service Center for the past three years.
Boy Scout Troop 54 of DeSoto kicked off the opening ceremony with the presentation of the flags and the Pledge of Allegiance.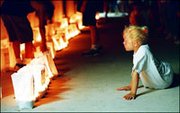 After a welcome from Hitchcock, Kim James of the American Cancer Society reminded participants why they were there. A cancer cure and, like someone else said here tonight, we'll be here doing a celebration lap."
Relay participant Vergil Dean hopes so as well.
Four years after being diagnosed with prostate cancer, Dean felt well enough Friday night that he ran the last few feet of the survivors lap. His daughter, Vergie Opdycke, and granddaughter, Holly Opdycke cheered him on from the sidelines.
Dean and his family have walked in the DeSoto relay every year since it started three years ago. The annual fund-raiser took on additional meaning for the family when Dean's daughter died of cancer about a year ago.
The relay gives cancer survivors a way to participate in the fight and to draw strength from one another," Dean said.
"It's a great thing to see everyone out here. You have to appreciate what it stands for and what the people are doing here tonight," he said.
Walking with his daughter and granddaughter gave him hope that someday he would be cancer free.
"We want a cure," he said. "You know, no one wants to be a cancer survivor; we want to beat it."