Citizen of the year: Green-thumb volunteer reaps town's gratitude
No one can accuse Debbie Kuster of not doing her part to keep DeSoto beautiful.
For more than 10 years, Kuster has planted flowers, shrubs and trees around town and spent several hours a week maintaining them. She's never asked to be compensated for her work, but last week Mayor Steve Prudden gave her the title of DeSoto Citizen of the Year.
Kuster didn't intend to become the city's unofficial gardener when she decided to plant some flowers and shrubs outside the DeSoto Library in 1989.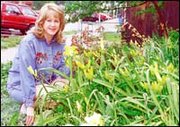 "I was friends with Sue Peavy, the librarian at the time, and we were talking about how the area outside the library could use some help," Kuster said. "She knew I did some gardening and my daughter's Girl Scout troop needed some badges. So, I told her we'd take care of it."
The girls helped plant shrubs, flowers and bedding plants outside the library and took turns helping Kuster with the watering and weeding.
As the girl scouts got older and moved on to other things, Kuster continued caring for the plants on her own.
She's not sure exactly when she began taking on other projects around town, she said, it's just been a progressive thing over the years.
Now, Kuster also tends to garden areas at the school administration building and city park. She filled flower boxes at the town's entrances and soon plans to get started on the garden area in front of city hall.
With children still at home and a part-time job, Kuster has to juggle her schedule to maintain the gardens. The key, she said, was to make them as low-maintenance as possible.
"That's why I like day lilies and you'll see a lot of those around town. You don't have to do much to them. The park used to have rose bushes and they were in bad shape because they require so much maintenance," she said.
Kuster said she enjoys being able to good to do something for her community.
"This is a small town and they don't have a lot of money to spend on things like this, so it's nice to help out," she said.
Prudden said he gave Kuster the award so she would know her hard work had not gone unnoticed. "She does such a nice job and we appreciate all of her hard work," he said as he gave her the award.
More like this story