Veterans have stories to tell
Every veteran at DeSoto's VFW has a story to tell. Some are sad, some are humorous, but they all document an important time in American history.
The veterans who visit the Linden-Tripkos VFW Post 6654 say they don't spend a lot of time talking about the various wars in which they've fought. The individual stories aren't as important, they say, as the fact that each veteran knows what it's like to do battle and what it means to lose friends and family members during those battles. The common ground brings them together to discuss everything from politics to the weather.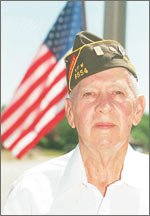 "I think everybody's got their own story and they're pretty much the same," post member Edwin Hoyes said. "It's just nice to be here among other veterans. We're kind of a breed of our own."
Hoyes and fellow veteran Jim Tripkos broke with tradition on Memorial Day and talked about their experiences during World War II.
Before they were old enough to vote both men were called to serve their country.
With the United States engaged in war, neither gave a second thought to leaving home and joining the armed forces. According to Hoyes, it's just the way things were done.
"Everyone from my neighborhood went and a lot of them didn't come back," he said. "We knew when we were old enough, we'd go."
Tripkos also knew he would be called. Less than a year after his uncle, Charles R. Tripkos, was killed in action in North Burma, he boarded a ship for the Philippines.
In addition to his uncle, Tripkos had a brother and two cousins in the war. Because so many of his family members served in the war, DeSoto's VFW post bears the Tripkos name.
"They chose the name Linden-Tripkos because those two families had more members
in service than any other family in town," Tripkos said. "And because each had members die over there."
It was the men in the family who were called to fight, but everyone played a part in the war effort, Tripkos said.
"That was the beauty of it, everyone worked together," he said. "We were over there fighting, but the people left behind were working too. My wife was a jigger. She jigged for the welders, helping them assemble the bombs. The whole country came together."
As their wives and family members kept things going at home, Tripkos and Hoyes fought their respective battles, Tripkos as a rifleman and Hoyes as a sonar operator in the Pacific.
Hoyes remembers being shot at several times, but said his ship was never hit.
"You'd never hear the shots coming, you'd just see the water splash around you," he said.
Not much more than a teenager, Hoyes said he didn't know enough to be frightened by exploding mortars.
"I was never scared. The only time I got a little sensitive about it was when the big waves hit and I saw the water collecting around my feet," he said. "I thought we were going down."
Hoyes' favorite wartime memory is of an announcement made by his ship's captain."
"He got on the loud speaker and said the war was over," he said. "We turned on the ship's running lights because we never could do that before. Then we took our cigarettes and flipped them into the ocean. I guess that sounds kind of silly now, but it made us feel good at the time."
Hoyes returned home just in time to bring his wife and newborn son home from the hospital.
"We were married 9 months and 10 days earlier," he said. "As soon as I got home, I had a family. There was no rest for me, I had to get myself a job."
Both men admit their memories may be a bit jaded, but say they wouldn't trade their experiences for the world.
"Of course we only remember the good times," Hoyes said. "But it was quite an experience. I've been to a lot of places I wouldn't have otherwise been able to go. You know, once you make it to Japan, if you go any farther, you're on you're way back to the United States."
"Most of the men here are proud of what they did and I think they should be," Tripkos said. "I know I've always been proud to come and help put the flags out."
It's that pride that makes the DeSoto VFW one of the most active posts in the area, Tripkos said.
"I come by here every day to make a pot of coffee for anyone who might want a cup," he said.