There will soon be a new sheriff in town
One thing Johnson County voters can be sure of is that they will have a new sheriff next year.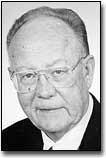 Sheriff Fred Allenbrand will retire at the end of the year after more than three decades of service. Because no Democrats have filed for the position, his replacement will be selected in the Aug. 1 republican primary.
Two veteran law enforcement officers want Allenbrand's position.
Charles "Smokie" Siecgrist, 59, of Olathe, worked as a patrolman for the Kansas Highway Patrol for more than 23 years.
He was a law enforcement inspector for the state of Kansas for 11 years and a Topeka police officer for five years.
John Foster, 65, of Lenexa, has been an undersheriff for the Johnson County Sheriff's department since 1992. He began his career at the Johnson County Sheriff's Department in 1956. He was the assistant chief of police in Fairway from 1960 to 1971 and served as Lenexa's police chief from 1971 to 1991.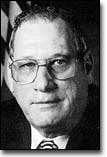 Both men say their backgrounds in law enforcement have prepared them to fill the position of sheriff.
If elected, Siecgrist said he would put more deputies on the street.
"There needs to be more patrolling by the officers," he said. "There needs to be a better use of manpower within the department. Fred runs a good department, but there is a waste of manpower. If we put more officers on the street where people will see them, that's where you deter crime."
He would also initiate more programs for area youth.
Because he has served as undersheriff for the past eight years, Foster said his transition into the office would be a smooth one.
"I don't need four years to learn the job," he said. "I'm ready to go. I know the system and I know most of the people in the department."
More like this story