Lingle faces challenge from Wolf in County Commission primary
The Second District Johnson County Commission race will pit a political veteran against a relative newcomer to politics.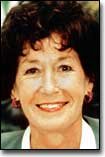 Incumbent Johnna Lingle of Shawnee will face Susie Wolf, also of Shawnee, in the Republican primary on Aug. 1. Because no Democrats have filed for the position, the race will be decided in the primary.
Lingle has held the second-district seat for close to 19 years. She gave two reasons for perseverance.
"I enjoy working with people and I'm good at it," she said. "As long as I enjoy the position and as long as people vote me into office, I will continue to do so."
The commissioner said she's proud of what she's accomplished over the past two decades, but added there is still a lot of work to be done.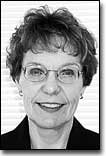 One item on Lingle's list of goals yet to accomplish is for the commission to gain control of the Department of Motor Vehicles. The DMV is currently a state department operated by the county treasurer.
"Right now the commissioners only have authority over the budget. We should have the power to better coordinate the management of the department," she said.
"People are having to wait too long in line. I think with better supervision, the procedures could be improved to make things flow more smoothly."
Lingle said she would also like for the county to open satellite offices in other parts of the county so residents wouldn't have to drive as far to handle their vehicle registration matters.
"For the majority of citizens, their primary contact with the county is through the DMV," she said. "And judging by the calls I get and the people I talk to, they're not happy with the ways things are now."
Another priority for Lingle would be to work on stabilizing property taxes for the county's older residents.
"Senior citizens have to pay the same property tax as everyone else and if you look, I think you'll see that the majority of the taxes collected are used for schools," she said. "The older people don't have kids in school anymore and I think we should abate those taxes for them, so the portion they pay for schools would not go up from year to year."
Lingle's opponent, Wolf, is a part-time real estate agent. She has lived in Shawnee for 13 years and is originally from Kansas City, Kan.
She said she has been interested in politics for some time now and served several years ago on a precinct committee. Impending growth in the county prompted her to run for the commission seat, she said.
"As I've driven around the county over the past few years I've seen it change and grow so much," she said. "And when the Oz thing came up I thought it would be interesting to learn more about it."
With a husband who was in the military, Wolf said she has moved around a lot in her lifetime and has seen other communities swallowed up with growth.
"I've seen what happens when the growth overtakes us," she said. "I want to see the growth managed in a way that will keep the county as good as it is now."
One of her big concerns, Wolf said, is the establishment of an adequate infrastructure.
"Transportation infrastructure is going to be an important issue. I've already noticed that it's beginning to take longer and longer to get from one point to another in Johnson County," she said. "We need to manage the growth to make it easier for people get around the county."
If elected, Wolf would also like to lead the way in establishing more park land for the county.
"According to a national study I looked at, we have about half the park space recommended for a county our size," she said. "I would like to make sure people have places to go for recreation."
Finally, Wolf said she would like to look further into the issue of property taxes.
"A lot of people I've talked to were really surprised at how much their taxes increased over the past couple of years," she said. "I would like to see property taxes be more predictable."
Although the job of commissioner is technically part time, Wolf said she is aware of how many hours a week it would take to do it right.
"After looking into it a bit, I realize it's much more than part time," she said. "But that's fine with me. I really like being involved and like to keep busy. I'm sure this would do that for me."