Delivering the goodies
Ice cream man has a thriving business in the summer months
The three boys stood near the end of the driveway waving dollar bills above their heads, anxiously awaiting the arrival of their evening snacks.
Once the large white van with rainbow-colored graffiti had come to a complete stop, Mark West started his routine.
"What can I get you today," West, senior district manager of Frosty Treats, said.
Without hesitation, DeSoto resident C.J. Prince said, "the normal," and handed West a crumpled dollar bill. West then opened the freezer door and retrieved an Original Big Dipper for his patron.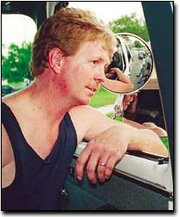 "It's nice that you get out there long enough and know what people like," West said. "You can have it ready for them."
West, an 11-year veteran, said DeSoto is the best area for him to make money.
"That's why I come here later at the end of the day," he said. "Every sales area has their sweet spot, and this is mine."
When his wife became pregnant with the first of their two children, West said he decided to give the job a try.
"No one really grows up and says, 'I'm going to be an ice cream man,'" he said. "It just kind of happens.
"You can do it if it's your bag."
After more than a decade of delivering ice cream, West said he enjoys meeting people and seeing smiling faces.
"When you're selling ice cream people are happy," he said. "That's good for the blood pressure."
Although West receives a winter vacation, he said most people might not realize that his service operates nine months out of the year. He works 14-hour days and usually seven days a week.
"If it's 35 degrees and sunny then we start," he said.
There are 345,000 miles on West's van. Since he received the van about one year ago, he has contributed more than 120,000 miles.
West visits Piper, Edwardsville, Eudora and other cities in the area on a daily basis. He drives from 10:30 a.m. to 9:30 p.m. and usually spends up to $30 a day on gas.
"The key to success is how efficient you are," he said. "You've got to be ready when you get there."
A change in ownership in 1991 changed the name of the service to Frosty Treats. The company, though, has existed for more than 40 years, and it currently has about 55 vans.
The company continues to break sales records each year, West said.
"It's been a steady climb ever since I've been in the business," he said.
Although sales have been competitive, West said making money has always been the second priority. He said he tries to teach children safety.
"The number one thing is to keep kids safe," he said. "I don't hand them ice cream before I look for cars."
He said his business reaches all ages.
"The adults are the biggest kids because if you don't show up they're like, "where were you, I waited for you,'" he said.