Craig, Davis battle for deeds office
The retention of public records by the Register of Deeds office began in the mid-1800s, so it is no surprise that the two candidates for the office are concerned with its level of technology.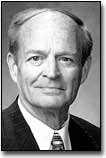 Although Bruce Craig and Becky Gilmore Davis have dissimilar backgrounds, they are both campaigning to improve technology. Craig is using his political experience, and Davis is focusing on her recent college degree.
"I'm running because I think I am the most qualified," Craig said. "I have 24 years of governmental service. I have been a Realtor in the past."
Craig has been an Olathe City Commissioner for eight years, mayor for three years and Johnson County Commissioner for 16 years. He has worked as the chief deputy of the Register of Deeds office for the past month.
Throughout his experience, Craig said he has dealt with thousands of dollars.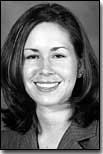 This experience, he said, gives him a great deal of background.
"In my dealings with the general public I have always been open and honest," he said. "I've been a businessman for 35 years."
Davis recently graduated with a degree in communications and business administration. She has experience with management information systems, accounting, business law, marketing and public relations.
Prior political experience comes from Davis' mother, who was a former state representative for Johnson County. When her mother first ran for office 10 years ago, Davis said she had no interest in government.
"For young people, we should know that if we don't agree with something in the government that we can actually run for that office," she said. "My mom has been an inspiration."
Davis said Craig has focused on his experience throughout his campaign. She said his experience, though, is not necessary for the position.
"You have to admire someone who's been in office since 1971," she said. "He's focused on his experience, but I'm focused on what I will do."
Davis said that if elected, she would first set up an advisory board. She said she hopes to make up for her lack of experience through the board.
The complicated nature of this office is a reason Craig said someone who understands county government should be elected.
"I do have the experience and a great deal of interest in serving for the next four years," he said. "That's what the election's about."
The Register of Deeds office keeps records of the ownership of property. It was created to assure that clear transfers of titles are established between the buyer and seller.