Becker takes on O'Connor in senate primary
Kansas State Senator Rich Becker is facing familiar competition in his campaign for re-election this year.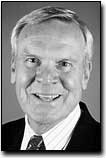 Becker, who has been district nine's Republican state senator since 1996, said his opponent, Kay O'Connor, is using tactics similar to those used four years ago. He said "not truthful statements" are being made concerning his political records.
"I've been through this type of election," Becker said. "I've had a record a long record of public service.
"My views represent the views of the majority."
The incumbent started his political march as a member of Lenexa's City Council. He then spent 12 years as the mayor of Lenexa and one year in the House of Representatives.
O'Connor was elected to the Kansas State House of Representatives in 1992. Through her experience, she said she felt the senate was too liberal.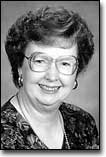 "There are an awful lot of problems in out government," she said. "If I were to work very hard and be very successful I might be able to solve a few of the problems."
As a homemaker for 15 years, O'Connor has been involved with her church and public school programs in her community. She said her conservative viewpoints would attract voters.
"When I distribute my literature I try to express my opinions accurately on issues of some controversy," she said. "I am very honest."
Becker said he would concentrate on what he has done in the past to emphasis what, if re-elected, he would do in the future.
"The very best indicator of what a person is going to do in the future is to look at what they have done in the past," he said. "I've been involved in all sorts of civic and community affairs."
Both candidates said they were concerned with education. Becker said it is the major issue facing Kansas.
"There's a thousand different issues (in education) right now," he said. "Two out of every three dollars spent in Kansas is on education."
Improving education in inner-city neighborhoods would be one of O'Connor's foremost projects if elected. She presented a 10 point presentation last year aimed at cost-free solutions.
"We need to solve problems without throwing in money," she said.
More like this story