Dan Ralston might have temporarily traded in his paintbrush for a spatula, but he is still an artist at heart.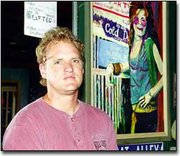 The co-owner of the Kill Creek Pub in DeSoto loves what he does. He takes pride that his five-year-old business has become one of the city's most popular restaurants.
"We like to think we have the best food in Johnson County," he said.
But with one look around the pub, one can see that preparing a quality steak or seafood dish is not his only talent.
His oversized paintings blend perfectly with the relaxed, neighborhood atmosphere Ralston and his business partner, Jimmy Parente, have created at the pub. Behind the bar is a portrait of Janis Joplin, on an opposite wall is a colorful painting of British comedian Benny Hill. Almost hidden in a corner is a multi-colored portrait of musician Sammy Hagar playing his guitar.
Mingled in with the celebrity paintings, patrons may recognize a few familiar faces.
Paintings of Mayor Steve Prudden riding in a DeSoto parade, local barber Q.V. Snowden cutting hair and Parente walking with one of his horses hold their own among the more famous subjects Ralston has painted over the years.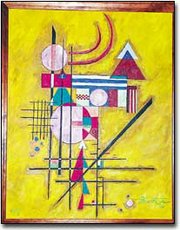 "I just paint things that look like they'd be fun to work on," he said.
When he graduated from Kansas State University several years ago with a degree in graphic design, Ralston planned on creating art for a living. He soon decided to make art a hobby and enter a more financially lucrative field.
"I found out you couldn't make any money with graphic design. I became a bartender and eventually learned how to cook," he said. "I always wanted a studio, but I guess I got a restaurant instead."
His stint as a bartender earned him the nickname Woody.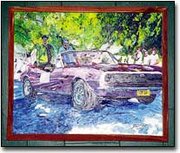 "He got the nickname from the character from the television show Cheers," Parente said. "He looks a lot like him and he actually has a similar personality. You know, he's just a real nice, easy-going guy."
The pub is open daily for breakfast, lunch and dinner, giving the father of two little time to paint these days.
"I do about two paintings a year," he said.
He's grown attached to most of his work over the years, but said he would part with most of his paintings for the right price.
"I would probably sell them for around $1,300 each," he said. "People look at them and ask questions about them, but no one's offered me that much money yet."
As much as he enjoys running the restaurant, Ralston said, he has a feeling he will one day return to his original passion.
"I guess if I had to choose I'd have to say I enjoy painting more," he said. "I'm sure that's what I'll do when I retire."
More like this story