Teen rides 'Comet' to world show
Mill Valley senior to compete in national equestrian event
A simple love for horses has turned into a way of life for Erin Zirbel.
Her love turned into passion and her dreams of riding horses turned into the reality of having her own.
She cut out horse pictures when she was younger, rode ponies as a child, and in two weeks will go head-to-head with the best equestrians in the nation.
The Mill Valley senior will travel on August 4 to Fort Worth, Texas for the 29th annual American Quarter Horse Youth Association World Championship Show and Convention.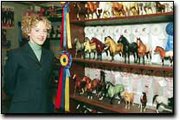 There, she and her horse will compete against some of the best riders and horses in the world in the Equitation Over Fences show, a series of eight jumps that judges the rider, and the Working Hunter show, a series of eight jumps that judges the rider and the horse.
"I am really excited. It takes a lot just to get to this far," Zirbel said. "It's a really big show. Every state is represented and there are some kids from other countries."
Although she tried other sports as a child, Zirbel said she fell in love with riding and never looked back.
"It's just something that I enjoy doing. It's something different and it's more of a challenge because you have to take responsibility for everything that happens," Zirbel said.
But she won't go at it totally alone. Zirbel will ride her 13-year-old horse, Write A Comet, in the world show.
"He's kind of got a funny personality, but we get along really well," said the 17-year-old Zirbel. "He's kind of like a grumpy old guy."
Although a serious sport, Zirbel said she and Write A Comet kept things light in training and had a lot of fun. The reddish-brown horse, whose favorite snacks are Pop Rocks and Starburst candies, is a show-off at times, bowing to the crowds and trying to take control, Zirbel said. But she also said she and her horse of two years work well together.
"When you're out there it's just you and your horse," Zirbel said. "So it's good that we get along so well."
Zirbel said she and Write A Comet shared a bond. He knows when she is tense and she knows when he is going to be stubborn.
Part of that is due to the attention and care that Zirbel has always paid to horses.
"As far back as I can remember, maybe 3 years old, she used to go through magazines and cut out pictures of horses," said Zirbel's mother Vickie. "And she always wanted to go drive and look at the horses in the fields."
In fact, Zirbel said she couldn't remember a time when horses weren't everything to her.
"I've always loved horses," Zirbel said. "I just kept begging and pleading to own a horse and my parents finally bought me one."
And when her parents bought her Morgan, a $600 pony, they thought the begging would stop.
"They thought that would satisfy me," Zirbel said. "But now, thousands of dollars later, I am still riding."
But Vickie said she and her husband Roger, who attend all of Zirbel's shows, would spend the time and money all over again.
"I think you learn to make sacrifices when your child excels at something, and this has been a fabulous thing for her," Vickie said. "It has been worth the financial sacrifices and the social sacrifices."
Zirbel has had to make sacrifices too. Along with traveling about 15 to 20 weekends each year for shows, she takes about an 80-mile round trip three days each week to train with her horse in Louisburg. Between training, working at the school year book and keeping up with her classes, she has little time for much else.
"It's not something that you can do part of the time," Zirbel said. "It's something that you have to be totally dedicated to."
And although she said she used to feel as though she was missing out on other things in life, Zirbel said she was happy with the decisions she had made.
"There is a whole different world at horse shows," Zirbel said. "You are surrounded by people who do the exact same thing."
But those sacrifices will continue for only one more year because after next year, which will mark the end of Zirbel's youth career, she said she is going to hang up the saddle.
"I think I'll always ride because it's really important to me," said Zirbel, who hopes to attend Baker University after graduation. "And I could go back and compete later if I wanted to, but I don't plan on getting into the horse business."
Although she would like to achieve something outstanding, Zirbel said she would not be disappointed if she didn't finish well at the World show either this year or next.
"I feel like my show career is complete without it. It's been pretty rewarding," Zirbel said. "I think it's been pretty stellar on it's own."
More like this story