Behind the wheel
DeSoto students get an education in driving
Bob Reeves has grown accustomed to looking at the world from the passenger seat.
The high school driving instructor has logged more than 9,000 miles on the road this summer with young, inexperienced drivers at the wheel.
Reeves' home base is Bonner Springs where he teaches technology. For the past seven years, however, a large part of his time has been spent commuting between the five school districts in which he teaches drivers education.
He's spending a large part of his summer this year in DeSoto. With 85 students split between Mill Valley and DeSoto high schools, Reeves is on the road with students seven days a week.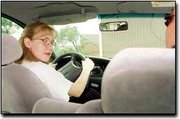 Saturday afternoon, he took three 15-year-old drivers from the DeSoto district out for their final round of driving. Allison Covault, Katy Crabaugh and Julie Beck each took her turn in the driver's seat to prove to Reeves they could handle themselves behind the wheel.
He took the young drivers onto the highway and into Kansas City where they could experience heavier traffic than they could find in downtown DeSoto. He wanted to see them merge onto the highway, change lanes safely and stay calm as cars zipped around them.
"Merging is one of the most difficult things to teach a new driver," Reeves said. "And once they get on the highway, they have to learn to maintain their speed. If they're not prepared to do at least 55 mph, they shouldn't be out here."
The girls didn't disappoint Reeves, and he didn't expect them to.
"I don't take them out here until I know they're ready," he said. "A lot of the kids have quite a bit of driving experience by the time they take the class and if they don't, we spend some time on side roads until they feel comfortable."
Beck calmly made her way onto K-10 Highway, and successfully merged the car into the heavy Saturday afternoon traffic. If Reeves was nervous, he didn't show it.
"He stays calm because he has a brake on his side," Covault explained.
The leased car is equipped with a passenger side brake and, in extreme situations, Reeves doesn't hesitate to lean over and take control of the steering wheel.
"I don't hit my brake unless we're really heading for trouble," he said.
The instructor's relaxed nature makes it easier for the students to remain calm.
"He's a lot calmer than my parents are," Beck said. "The first time I went out with my mom, she freaked out."
All three girls passed their final test and were given the certificates they need to get a restricted license. The license allows the students to drive to and from school a place of employment. Beck said it may be a while, however, before she is allowed to drive anywhere alone.
"I still have to pass my dad's test," she said.
Reeves agreed that even after passing the class, the students may not be ready to go solo.
"It's really a team effort between us and the parents. Our main goal is to teach them safety. They still have to practice what they've learned," he said.
Students who do make it successfully through the course are usually better aware of safe driving rules and traffic laws than those who have been driving for many years.
"We teach them to keep their hands at 9:00 and 3:00, not 10:00 and 2:00 like we were taught," he said. "And we really stress that they keep a safe distance from the car in front of them."
Reeves requires his students to keep at least a two-second distance between themselves and the car they are following. He's even happier when they keep a distance of three or four seconds.
"What a lot of people don't realize is that at a speed of 70 mph, you travel about 105 feet in one second. In three seconds, you've covered the distance of a football field," he said. "So we definitely want them to keep a safe distance and not take their eyes off the road for more than a second when checking their blind spots."
When they come to a stop behind a car, Reeves wants them to be able to see all of the car in front of them, even where its tires hit the ground.
"That's a rule you see a lot of people break," he said.
Reeves often uses the bad drivers as a part of his lesson plan.
"We get plenty of bad examples to learn from out here," he said. "You'd think when people see the student driver sign on the back of the car they'd give us some extra room, but a lot of them don't. The smart ones do."
Before the students get back to the high school after close to three hours of driving, Reeves has a few last words for them.
"Now you get my last-day speech," he said. "Always, always wear your seat belt and wear it correctly, with the lap belt around your hip bones, not around your stomach. And never, never, never get in a car with someone who has been drinking."
As the car pulls up to the curb at the high school, three students are waiting for their turns behind the wheel.
"They can't wait to get in here," Reeves said.
The group would be Reeves' fourth of the day, but he greeted them with the same enthusiasm as the first.
"I love it," he said. "In what other job do you get to tell teenagers what to do and they actually want to do it?"
Perhaps the hardest part of his job is remembering when not to be a driving instructor.
"I've learned not to say a word when my wife is driving," he said.