Best friend to man's best friend
DeSoto veterinarian used a little horse sense in choosing his career
Matt VanderVelde is one of those rare individuals who chose a career by following both his head and his heart.
The son of a surgeon, he was strongly influenced by his father's profession. A love of dogs led him toward the obvious: a career in veterinary medicine.
It all seems so perfect.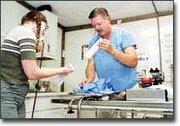 But it took some time to put together the pieces to the puzzle.
"I was exposed to medicine at an early age," VanderVelde said.
Encouraged to make medicine his career, VanderVelde worked as a nurse orderly when he was young. He quickly realized, though, that this was not what he desired.
His love of dogs and interest in veterinary school inspired him to seek a different path.
"I saw things (at the veterinary school) I'd never seen before and it just energized me," he said.
After eight years at Kansas State University, VanderVelde began practicing veterinary medicine, a profession he said was his calling.
"In short, I like what I'm doing," he said.
VanderVelde, 45, has owned and operated the DeSoto Veterinary Clinic for more than 15 years. Without the support of the community, VanderVelde said his business could not survive.
"It's an extremely unique profession of which I can be my own boss and serve the good people of DeSoto," he said. "It's very heart-warming because every day is different."
The growth of DeSoto and the clinic's professionalism have kept the business steady throughout the years, VanderVelde said. The business started with 25 clients and now claims more than 3,000.
"This is a lifetime of learning," VanderVelde said. "You become more confident over the years.
"For every square foot we've got a service or item to provide."
The clinic provides preventative medicine, diagnosis of illness, surgery, dental care, radiology, grooming and care to farm animals. It also has an outreach program.
VanderVelde said the outreach program allowed him to speak with school children about his profession.
"I'm available at any time when I can schedule it in," he said. "I have a burden upon my heart to give back to the community"
VanderVelde and his wife and three children own a 75-acre farm, three dogs, two cats, four horses, one steer, chickens and sheep.
VanderVelde said it was important for people to annually vaccinae their pets and provide proper nutrition.
"An animal can die very quickly without proper care," he said. "When an animal dies, we cry with the owner."
The clinic specializes in treating companion animals such as dogs, cats and horses. VanderVelde said he commonly made house calls.
Leavenworth County resident Chris Claflin has been a client of the clinic for about four years. He said VanderVelde had visited his home to treat his cattle, horses, dogs and cats.
"It's a lot easier than trying to get them to a vet," Claflin said. "He's pretty good at educating what he's doing and why he's doing (certain treatments)."
There are no house call charges if a client lives within city limits.
VanderVelde said he would also transport clients' pets if necessary.
"I like to get out of the clinic," he said. "That's one aspect I hope will never be lost in this profession."
VanderVelde said he tried to spend adequate time with patrons, be personable and provide a worthwhile service. He said he felt like his clinic was meeting people's needs in the community, and he planned to remain in DeSoto for the remainder of his career.
"I just want to express a heartfelt thanks to the people of the local area," he said. "We'll continue to serve them as best we can. We want to let the people know they can call us at any time."