Simply a-maze-ing
Pendleton Farm corn maze expected to attract thousands
With map in hand, three generations navigated a butterfly antennae and across the right and left wings of the eight-acre cornfield.
Upon their exit, the grandmother, Sherry McBride, was anxious to introduce her two grandsons to rural Douglas County's Butterfly Wishes corn/soybean maze. McBride brought her daughter, Michelle Burmeister, and her granddaughter, Britanny Bermeister, to the maze.
"They're going to be so jealous when we tell them about it," McBride said.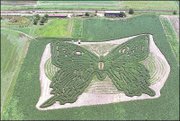 The maze, designed by artist Stan Herd, is located at the Pendleton Country Market, 1446 E. 1850 Road.
The Burmeisters, who were visiting from Iowa, said the cornfield impressed them.
"We know a lot about corn up our way, but we've never seen it made into a maze before," Michelle Burmeister said.
This is the second year John and Karen Pendleton, owners of the market, have joined with Herd to produce a maze. Last year, a five-acre turtle maze was cut.
"My wife and I had wanted to do a corn maze a couple of years before the first time, but we didn't have time," John Pendleton said. "We thought it would be silly if we didn't ask (Herd)."
The butterfly, which is enclosed by a circular path of soybeans, is cut of corn. Pendleton said a grid system, marker flags, garden hoes and a self-propelled lawn mower were used to complete the two-day job of creating the maze.
Pendleton said 5,000 people visited the maze last year, and he said he would be pleased if the attendance doubled this year. People from foreign countries and 47 states visited last year.
"We get a wide variety of people," he said. "We get people that travel a great distance just to touch a Stan Herd piece of art work."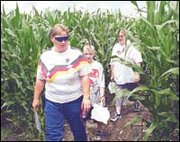 The maze features gazebos, refreshments and a wooden tower. The tower allows people to view the design from an aerial position.
A flowerbed in the middle of the butterfly includes plants that are intended to draw live butterflies into its center. Pendleton said the antennae are made of century plants.
"There are more destinations in this year's maze," he said. "I'm continually pleased to see people laughing and smiling."
A butterfly design was chosen because there was a need to create something that would be appreciated on a national level, Pendleton said. Regionally, the maze is sharing a connection with Monarch Watch, a Kansas University program.
Pendleton said promotional products and memberships to the organization would be sold. In return, the program has established educational signs and a small butterfly garden.
"We wanted it not only to be entertaining, but educational," he said. "We wanted something where we could easily work with Kansas University. We also wanted to think of something culturally popular."
Admission to the maze is $7 for adults and $5 for children. Those age three and under are free.
The maze is open every day until about 8 p.m. and opens at 1 p.m. on Sundays. Pendleton said that because he would like to have school groups visit the exhibit, they will try to keep it running through Labor Day.
For those wishing to meet Herd, Pendleton said he visits the maze frequently.
"He comes out on a regular basis to meet people, talk with them and sign autographs," Pendleton said. "It's something he doesn't have to do, but we're thrilled he does."
More information concerning the maze is available at www.pendletons.com, or the Pendletons can be contacted at 785-843-1409.
More like this story