Community adapts to extreme weather
DeSoto area residents are adapting to an outbreak of extreme weather conditions that have been largely absent during recent years.
The DeSoto school board has adopted a snow bus route policy after the district was forced to cancel school Monday, Tuesday and Wednesday of last week.
Jack Deyoe, district transportation director, told the DeSoto school board Monday those cancellations consumed half of the district's snow days for the 2000-2001 school year. With predictions for a bad winter, that doesn't leave the district in a comfortable position, he said.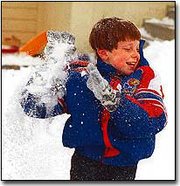 To provide a bigger cushion without compromising safety, Deyoe suggested a snow route policy for seven of the district's 19 bus routes. On snow days, buses would run designated shorter routes and avoid problem areas, Deyoe said.
Parents of students on the affected routes will be notified of the policy and provided with maps showing the snow routes. Snow route days will be announced on radio and TV stations, Deyoe said. Where possible, parents could then drive their children to meet the buses, he said.
See Weather, Page 2A
If the policy had been in place last week, the district could have opened schools last Tuesday, Deyoe said.
The roads that would not be serviced on snow days are mostly gravel and in the southern part of the district, northwest of DeSoto near the river, on Edgerton and Evening Star roads and select streets in Shawnee and Lenexa, Deyoe said. The policy will not affect students living within a two-mile radius of their schools who must pay for bus service, he said.
The city of Desoto is asking residents to park their vehicles off the street when city crews are removing snow. That not only allows the city to remove snow to the curb, but it prevents vehicles from becoming blocked by piles of snow left by city plows, said city street supervisor Michael Ash.
"It's really better for them and us if they can park off the street," he said.
Ash also reminds residents it is their responsibility to clear off sidewalks in front of their residences and businesses.
Sgt. Steve Jensen of the Kansas Highway Patrol said many metropolitan area drivers have been slow to adapt to extreme conditions.
"People don't change their driving habits when on snow and ice," he said. "I see people eating their food, drink coffee and talking on cell phones. You can't do that on icy roads. Driving in those conditions requires your complete concentration."
Television reports last Friday that he Highway Patrol closed Kansas Highway 10 from Interstate 435 to DeSoto were false, he said.
"We closed lanes from time to time so wreckers could remove vehicles from ditches or the median, but we never closed any stretch of the highway," he said. "It never snowed anywhere near enough to cause us to close the highway."
There hasn't been a fatality accident attributed to the icy conditions despite numerous accidents on Johnson County highways, Jensen said.
A man injured on Interstate 635 remains in serious condition. Jensen said the man left his car after an accident and started walking toward a state trooper. Another car rear ended the trooper's cruiser, which then ran over the pedestrian.
"The best thing to do is stay in your car and remain buckled up if you have an accident on a busy highway," he said. "That's what our troopers do when they're on the scene. They buckle up knowing they are probably going to get hit."