A Christmas wish come true
Snow flurries, strong north winds and single-digit temperatures made Saturday a nice day to curl up and enjoy the comfort and security of home.
The simple joys of their home on Cherokee Street are very meaningful to Dave and Jan Wilkerson. The couple and their two daughters, 8-year-old Lori and 3-year-old Megan, will celebrate their first Christmas in the new home they acquired through Kaw Valley Habitat for Humanity.
Habitat for Humanity makes owning a home possible for families like the Wilkersons through a combination of volunteer labor and donated materials. Future Habitat homeowners don't just watch other volunteers build their houses, but are required to contribute their own sweat equity to the project.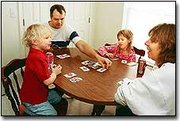 Dave said he has now been on both sides of the Habitat experience.
"I've helped build a Habitat home in Olathe," he said. "That's how I found out about it."
But Dave said it was his wife that followed up on his initial interest.
"She made the application and stuck with it," he said.
Jan said the application process took about two years. It included a number of interviews during which the family had to convince Habitat they would contribute the needed sweat equity and pay off the home's 20-year loan.
Without Habitat, the family would have been forced to remain renters or buy a house that didn't serve their needs.
"All we could afford was old, two-bedroom houses," Dave said. "I wouldn't have had a bedroom of my own," added 8-year-old Lori.
The precocious Lori is the family's ambassador to the community.
"I think she's met more people than any of us," David said. "Most people know me as Lori's father."
She has done that despite continuing to go to school in Olathe, David said. To make the move less disruptive, David drops Lori off at her school in Olathe on his way to his job with the city of Olathe. Lori's daily commute will end when she enrolls at Starside Elementary with the start of the second semester.
"I grew up in a small town," said the Louisburg native. "I really wanted to get my kids out of Olathe. We definitely wanted to get the kids out of that environment."
Homeownership offers a security they never had as renters, the Andersons said. They don't have to worry about whom is living into the apartment next door or an increase in rent. They can also decorate to suit themselves.
In fact, Dave said he takes satisfaction in even the less attractive aspects of home ownership.
"I get to mow my own lawn and shovel my own drive," he said. "It's nice."
More like this story